Luxury four star and five star hotels in Rhode Island treat you like royalty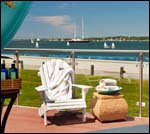 Rhode Island is so beautiful and interesting you should consider raising the stakes for your Ocean State vacation or getaway by finding a luxury hotel, or resort, or other luxury lodging. Luxury lodgings in Rhode Island work beautifully for any occasion from a romantic weekend stay to a family summer vacation or a wedding or reunion. Luxury lodgings near the shore or near Newport may offer spa services, swimming pools, access to beaches and boat tours, and suites for larger groups.
Luxury lodging in this geographically compact state will put you close to world-class attractions, like Newport's mansion and golf courses and historic waterfront (with fun shopping), or like Providence's WaterPlace Park, Little Italy, gourmet food, and world-class colleges and universities. The upscale lodgings on this page have earned four star hotel or five star hotel ratings from AAA or Forbes Travel Guide, designating them as members of the select group that offers top-quality services and amenities.
38-44 Bay Street Watch Hill, RI, 02891 Phone: 877-394-8903
The Gilded Age Inspires Inn's Services and Pleasures
The Watch Hill Inn, perched above the coastal town of Watch Hill, has historic roots in the Gilded Age of New England grand hotels, as do its sister properties, Ocean House and Weekapaug Inn. At the all-suite Watch Hill Inn, the beauty of the neighboring cove and ocean beaches is married to modern décor, high-tech convenience (Apple TV, iPad Minis, Blu-Ray DVD player), and treats like in-room fireplaces and private terraces. Do you love luxury? Consider driving one of the Inn's Mercedes Benz cars, getting a treatment at the Forbes Five-Star OH! Spa, or stretching out on the private beach. Enjoy continental breakfast and meals delivered to your door, or stroll to the neighboring Ocean House for indoor or verandah dining with fresh, local foods.
Visit our sister properties - Ocean House Resort - Weekapaug Inn - Blantyre
75 Mill Street Newport, RI, 02840 Phone: 401-849-9500 Toll-Free: 800-392-1316
Scenic Newport at its luxurious best
The historic harbor and Hill Neighborhood meet at this small luxury hotel near Thames Street's waterfront shops and restaurants. Twenty-three spacious and luxurious suites feature original beams and exposed brick walls and has earned the Inn its title as a National Historic Landmark A rooftop patio for sunny morning breakfasts give guests an expansive view of the city. Suites offer down feather beds with 400 thread count linens, free wireless internet, marble bathrooms with rainfall and high pressure shower, plush bathrobes, mini-bar and fridge, and complimentary continental breakfast and afternoon tea. Suites May also include balconies, living rooms and gas fireplaces. The very high level of service and hospitality is further complemented by its membership in the "Green" Hotels Association.
1 Bluff Avenue Watch Hill, RI, 02891 Phone: Toll-Free: 877-346-9442
Luxury with a storied past and a resplendent rebirth
A storied past and a faithful reanimation of this celebrated seaside hotel welcome guests to Rhode Island's only AAA Five Diamond and Forbes Triple Five-Star resort. Set high on bluffs with magnificent ocean views, a beachfront location, and world-class amenities, it features 49 rooms and 18 Signature Suites with turn-of-the-20th-century décor, custom wooden furnishings and early New England artwork. Fine dining to simple beach fare means native Rhode Island seafood and classic cocktails, and culinary events designed to showcase the hotel's farm-to-table engagement. Outdoor recreational activities abound, while the OH! Spa features seasonal treatments and products to relax and rejuvenate in a manner reflective of New England's golden age.
Visit our sister properties - Weekapaug Inn - Watch Hill Inn - Blantyre