Rainy Day Activities in Rhode Island (RI)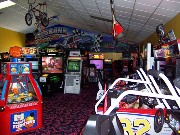 1098 Fall River Avenue Seekonk, MA, 02771 Phone: 508-336-8307
Rain or shine the action never stops
When the tracks are wet and the weather cold or rainy, the action doesn't stop at Seekonk Grand Prix, it just moves indoors. Find yourself at the arcade and challenge your family and friends on more than 60 of your favorite games including Guitar Hero, Ski Ball, Air Hockey and Dance Dance Revolution and more. Rain or shine there's always great competitive fun at an affordable price. When the weather clears, be sure to come back for all the on-track action that never fails to amaze and amuse. The new updated state of the art facility has all your go-kart fun to test your skills and moxy, now even two-seater go-karts that can race up to 12 at a time.
909 East Main Road (Route 138) Middletown, RI, 02842 Phone: 401-848-5161
Rainy day fun with a festive and flavorful air
Add to your rainy day pleasures this newly renovated and wildly popular Newport destination. Featuring daily tours and tastings of its award-winning wines, you can also enjoy the Brix Restaurant, The Marketplace, the Vineyard Cafe, a new Tasting Room and Tank Room, a unique wine shop plus new and expanded event facilities. The vineyard is set in an extraordinary micro-climate that allows for developing the complex flavors of their reds, whites, blush and reserve wines, plus sparkling and dessert wines and hard cider. New England's largest grower of wine grapes producing and bottling over 20,000 cases of estate-grown wine each year, it is also a leading agritourism destination, alive with music, comedy, annual clambakes and celebrations of every kind year-round.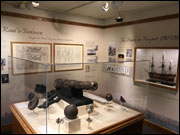 686 Cushing Road Newport, RI, 02841 Phone: 401-841-4052
Spend your indoor day perusing art, exhibits at war college museum
Go with the flow: On a day when rain is pouring down, head to the water – right off Newport – and visit the Naval War College Museum. It's easy to navigate this compact museum, housed in the college's historic Founders Hall. Whether your interest is perusing naval art, intricate models of naval ships or battle displays; examining uniforms and documents from New England naval history; or just learning about the strategy of naval battles from ancient times to today, there is something for everyone at the free museum.
Year round hours: Monday -Friday 10 a.m. to 4:30 p.m. The museum is also open on Saturdays from noon to 4:30 p.m. from June through September.