Find great and fun things to do in Newport Rhode Island
The pleasures of a visit to Newport are many and widely known. From its stunning harbor to gilded mansions, you'll also find the International Tennis Hall of Fame, music fests, great dining and
lodging
and places to
relax body and soul
. Visit one of New England's most popular vineyards, historic lighthouses, landmarks and homes and a revolutionary fort. Stroll Cliff Walk and romantic gardens, cruise the harbor and enjoy great places to swim, bike, experience wildlife and Newport's provocative colonial history.
Multiple Centers & Dock Locations Providence, Newport, Westerly, RI and Fall River, MA Phone: 401-272-3540
Hands-on fun on beautiful Narragansett Bay
Narragansett Bay is home to one of the most diverse ecosystems on earth. Save The Bay connects the community and the Bay through hands-on and on-the-water experiences for families, groups, students, and schools. Take in the beauty and history of Narragansett Bay on Summer and Fall Lighthouse Cruises. Get up close with hundreds of critters that call Narragansett Bay home, at the Exploration Center & Aquarium in Newport, open year-round. Our week-long Summer BayCamps give youngsters the perfect mix of fun and marine science education. And enjoy 360º views of harbor seals on Winter Seal Watch Cruises. Join Save The Bay in protecting and improving Narragansett Bay, keeping it swimmable, fishable and accessible to everyone.
Boat tours depart from Newport, Westerly, Providence RI and Fall River, MA.
680 Bellevue Avenue Newport, RI, 02840 Phone: 401-847-8344
An Heiress's mansion is her gift to the public
The oceanfront estate of heiress Doris Duke was built by Frederick Vanderbilt in 1887 with the grounds landscaped by Frederick Law Olmstead's' firm in 1890. It was then the largest summer house in Newport. In 1922, James B. Duke purchased the house then left it to his 12 year-old daughter upon his death. Upon her death in 1993, Doris bequeathed the estate to the Newport Restoration Foundation, which opened the estate as a museum in 2000. The house is decorated with French furniture, European art, Chinese porcelains, and Flemish tapestries. Opening April 2017, you'll see the exhibition "Nature Tamed in the Landscape, Gardens, and Collections", an exploration of the history of the grounds, plus fashion and objects inspired by the natural world.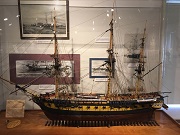 686 Cushing Road Newport, RI, 02841 Phone: 401-841-4052
See & learn the Navy's role in New England, and in history
Want to learn about naval activities in the Narragansett Bay area in colonial times? Or how the science of naval warfare has changed from the time of the Greeks and Romans through the Civil War, both World Wars to today? Then head to the Naval War College Museum, free and open to the public, where naval battles and strategies come to life via changing art collections, exhibits and documents. Starting Dec. 14, learn about the Navy's role in World War I from the new exhibit, "To Win or Lose All: William S. Sims and the U.S. Navy in the First World War."
Year round hours: Monday -Friday 10 a.m. to 4:30 p.m. The museum is also open on Saturdays from noon to 4:30 p.m. from June through September.
Tour the Tasty Treasures of Rhode Island
Rhode Island has a deep cultural history going back to the days of the Colonies, and that culture is reflected in the culinary diversity found in Providence and Newport. Today Rhode Island's food scene is eclectic and creative, having fused that history with the influence of JWU Culinary School. Rhode Island Red Food Tours takes guests on a food- and beverage-tasting adventure into these two beautiful and walkable small cities. As you stroll, nibble and sip at bakeries, eateries, and food purveyors, you also explore architectural gems and hear stories about Providence and Newport's historic neighborhoods.
It is recommended to take this tour at the beginning of your visit so you will know where you want to eat while visiting.
909 East Main Road (Route 138) Middletown, RI, 02842 Phone: 401-848-5161
Raise a glass, have a laugh, enjoy the view
More than a place about wine, for more than 20 years Newport Vineyards continues its traditions of outstanding wines with daily tours and tastings, and adds the Brix Restaurant, The Marketplace, Vineyard Cafe, a new Tasting Room and Tank Room, new and expanded venue facilities for public and private event, and a unique wine shop. The vineyard is the largest grower of wine grapes in New England producing and bottling over 20,000 cases of estate-grown wine each year through sustainable farming methods on nearly 60 acres of historically preserved farmland. The region's leading agritourism destination, the vineyards are alive with seasonal activities including music, comedy, annual clambakes and celebrations of every kind.
Newport Vineyards
at 909 E Main Road in
Middletown
Is a showcase of the excellent wines and hospitable vineyard operators in New England. Since its founding in 1978 this family-owned orperation has grown to 50 acres of varietal and hybrid grapes. Visitors are offered public tours every day. These include a tour in the vineyards, a behind the scenes look at the winemaking process and a tasting of five wines. The winery features an art gallery and retail shop, occasional Paint Nites, yoga sessions, clambakes, farmers market on Saturdays in season. Open year around. Phone: 401-848-5161.
On a getaway to
Cliffside Inn
on Seaview Avenue in
Newport
, you expect deluxe guestrooms, wonderful furnishings, and beautiful gardens. At the Cliffside, one of the Distinctive Inns of New England, you also find a singular art museum. Built as a home in 1876, the Inn was bought in 1907 by the Turner family of Philadelphia. Beatrice Turner, who was 18 in 1907, later would become an artist and Newport legend. Many of her works are on display at the Inn. The Inn also is home to a collection of fakes and forgeries -- original works painted by Newport artists that are either serious copies or tongue-in-cheek humorous interpretations of known works of art.
You've heard plenty about Newport's sailboats and mansions, but, hold onto your steering wheel: Since late 2014, the city also has been home to the
Audrain Automobile Museum
, at 222 Bellevue Avenue, where exhibits of racy and classic cars could blow the socks off the car enthusiast in your family. With more than 160 of the rarest vehicles in history, the collection shows vehicles from 1900 to today. Recent exhibitions were titled "American Muscle," "Supercar Evolution," and "Customs and Hot Rods." You can arrange a private, guided tour for one to 50 people. Cool event for a car club or just a group of like-minded friends. Open year-round, daily. 401-856-4420
Rhode Island allows your canine buddy to accompany you when you dine in outdoor seating areas of restaurants, for restaurants that allow it. Cool! Bring your mutt, on leash, and let him or her relax under the table as you and your human friends enjoy RI delicacies, from calamari to Campari or whatever leisure foods and drinks make you smile. Among the Ocean State restaurants that welcome dog companions are Wildflour Vegan Baker and Juice Bar in Pawtucket (dog treats on the menu); Garden Terrace at Vanderbilt Grace in Newport (Yappy Hour daily at noon); Luxe Burger Bar in Providence; and Portsmouth Publick House in Portsmouth.
After a major renovation, the
Museum at the International Tennis Hall of Fame
in the Newport Casino, 194 Bellevue Avenue,
Newport
re-opened in May 2015 with a fully engaging immersion in the art and history and heroes of tennis. The renovation showcases the Newport Casino, a National Historic Landmark, with exposure of three magnificent fireplaces and use of original furnishings from 1880.
A highlight of the new museum will be a holographic theater in which visitors feel as though they are in the room tennis great Roger Federer. Tennis aficionados also can test their knowledge of the sport; learn about tennis history and tennis in other parts of the world; and view 25,000 artifacts. Open daily, year-round. Phone: 401-849-3990.