Find great and fun things to do in Newport Rhode Island
The pleasures of a visit to Newport are many and widely known. From its stunning harbor to gilded mansions, you'll also find the International Tennis Hall of Fame, music fests, great dining and
lodging
and places to
relax body and soul
. Visit one of New England's most popular vineyards, historic lighthouses, landmarks and homes and a revolutionary fort. Stroll Cliff Walk and romantic gardens, cruise the harbor and enjoy great places to swim, bike, experience wildlife and Newport's provocative colonial history.
Multiple Centers & Dock Locations Providence, Newport, Westerly, RI and Fall River, MA Phone: 401-272-3540
Hands-on fun on beautiful Narragansett Bay
Narragansett Bay is home to one of the most diverse ecosystems on earth. Save The Bay connects the community and the Bay through hands-on and on-the-water experiences for families, groups, students, and schools. Take in the beauty and history of Narragansett Bay on Summer and Fall Lighthouse Cruises. Get up close with hundreds of critters that call Narragansett Bay home, at the Exploration Center & Aquarium in Newport, open year-round. Our week-long Summer BayCamps give youngsters the perfect mix of fun and marine science education. And enjoy 360º views of harbor seals on Winter Seal Watch Cruises. Join Save The Bay in protecting and improving Narragansett Bay, keeping it swimmable, fishable and accessible to everyone.
Boat tours depart from Newport, Westerly, Providence RI and Fall River, MA.
909 East Main Road (Route 138) Middletown, RI, 02842 Phone: 401-848-5161
Raise a glass, have a laugh, enjoy the view
More than a place about wine, for more than 20 years Newport Vineyards continues its traditions of outstanding wines with daily tours and tastings, and adds the Brix Restaurant, The Marketplace, Vineyard Cafe, a new Tasting Room and Tank Room, new and expanded venue facilities for public and private event, and a unique wine shop. The vineyard is the largest grower of wine grapes in New England producing and bottling over 20,000 cases of estate-grown wine each year through sustainable farming methods on nearly 60 acres of historically preserved farmland. The region's leading agritourism destination, the vineyards are alive with seasonal activities including music, comedy, annual clambakes and celebrations of every kind.
Tour the Tasty Treasures of Rhode Island
Rhode Island has a deep cultural history going back to the days of the Colonies, and that culture is reflected in the culinary diversity found in Providence and Newport. Today Rhode Island's food scene is eclectic and creative, having fused that history with the influence of JWU Culinary School. Rhode Island Red Food Tours takes guests on a food- and beverage-tasting adventure into these two beautiful and walkable small cities. As you stroll, nibble and sip at bakeries, eateries, and food purveyors, you also explore architectural gems and hear stories about Providence and Newport's historic neighborhoods.
It is recommended to take this tour at the beginning of your visit so you will know where you want to eat while visiting.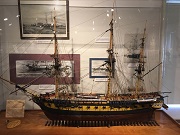 686 Cushing Road Newport, RI, 02841 Phone: 401-841-4052
See & learn the Navy's role in New England, and in history
Want to learn about naval activities in the Narragansett Bay area in colonial times? Or how the science of naval warfare has changed from the time of the Greeks and Romans through the Civil War, both World Wars to today? Then head to the Naval War College Museum, free and open to the public, where naval battles and strategies come to life via changing art collections, exhibits and documents. Starting Dec. 14, learn about the Navy's role in World War I from the new exhibit, "To Win or Lose All: William S. Sims and the U.S. Navy in the First World War."
Year round hours: Monday -Friday 10 a.m. to 4:30 p.m. The museum is also open on Saturdays from noon to 4:30 p.m. from June through September.
680 Bellevue Avenue Newport, RI, 02840 Phone: 401-847-8344
An Heiress's mansion is her gift to the public
The oceanfront estate of heiress Doris Duke was built by Frederick Vanderbilt in 1887 with the grounds landscaped by Frederick Law Olmstead's' firm in 1890. It was then the largest summer house in Newport. In 1922, James B. Duke purchased the house then left it to his 12 year-old daughter upon his death. Upon her death in 1993, Doris bequeathed the estate to the Newport Restoration Foundation, which opened the estate as a museum in 2000. The house is decorated with French furniture, European art, Chinese porcelains, and Flemish tapestries. Opening April 2017, you'll see the exhibition "Nature Tamed in the Landscape, Gardens, and Collections", an exploration of the history of the grounds, plus fashion and objects inspired by the natural world.
If you've had your fill of being mired on dry land while admiring sailboats skimming across Narragansett Bay, take the plunge and enroll in sailing classes in Newport Harbor. You are never too old to start, or old enough to stop; sailing is a life-long joy. Sailing schools offer a variety of levels of instruction.
Sail Newport
at 60 Fort Adams Drive in
Newport
offers sailing lessons for adults at all levels. 401-846-1983.
At 240 acres,
Sachuest Point National Wildlife Refuge
in
Middletown
is important stopover and wintering area for migratory birds. Nature- and bird lovers know this rocky peninsula as the place to see colorful harlequin ducks, loons, eiders, gannets, and, in winter, snowy owls. A walk on the three miles of trails around Sachuest Point reveals several habitats, including salt marshlands and steep rocky shorelines around the perimeter. Elevated observation platforms along the trails provide unobstructed views. The visitor center is an ideal way to begin or end a trail walk; creative exhibits tell you all about the land and creatures you will be traversing. You can get a permit for nighttime fishing.
Trail map
.
Brochure.
Personal train travel is so last century, it seems. Amtrak aside, lots of train tracks are being torn up to make biking and hiking trails. But there's always an exception.
Rail Explorers USA
, with a division in Rhode Island, offers, for your exercise and outdoor fun, the "rail explorer." It is a comfortable, pedal-powered vehicle with steel wheels, hydraulic disc brakes, pedals for each seat – and it rides on railroad tracks. You can enjoy a scenic ride along Aquidneck Island and aside beautiful Narragansett Bay with Rail Explorers USA. The Northern Ramble is a six miles of track between Portsmouth and the Sakonnet River. The Southern Circuit is a six-mile round trip tour. The vehicles are easy to pedal, and you don't need to steer or watch for traffic. Enjoy the scenery and take pictures! All trips depart from 1 Alexander Road in
, Portsmouth
. 877-833 8588
For a tour of a beautifully preserved Revolutionary War fort, make a trip to
Fort Adams
on Harrison Avenue in Newport. During this tour, visitors may see the officers' quarters and tunnels under the fort; visit a scenic overlook for views of Newport Harbor; and stroll the six-acre parade field and the complex outerworks; and learn bout more than 180 years of American history, military culture, architecture, and engineering. Check fort website for details on tour dates and hours. Phone: 401-841-0707.
The exhibition,
Bohemian Beauty: The Aesthetic Movement and Oscar Wilde's Newport
on display through November 4, 2018, in Rosecliff, 548 Bellvue Avenue in
Newport,
, celebrates the Aesthetic Movement (1870-1890), an important era of artistic experimentation. Irish poet Oscar Wilde was a leading proponent of the Aesthetic Movement in Britain, and he traveled to North America in 1882 to promote it. The style was influential in the Gilded Age, as it merged interests in traditional crafts - a precursor of the Arts & Crafts Movement.
Newport Vineyards
at 909 E Main Road in
Middletown
Is a showcase of the excellent wines and hospitable vineyard operators in New England. Since its founding in 1978 this family-owned orperation has grown to 50 acres of varietal and hybrid grapes. Visitors are offered public tours every day. These include a tour in the vineyards, a behind the scenes look at the winemaking process and a tasting of five wines. The winery features an art gallery and retail shop, occasional Paint Nites, yoga sessions, clambakes, farmers market on Saturdays in season. Open year around. Phone: 401-848-5161.
Like so many places in Rhode Island,
Fort Wetherill State Park
in
Jamestown
offers stunning ocean views and coastal walking trails. Situated upon 100-foot-high granite cliffs overlooking Narragansett Bay, the site was first used as by the colonists during the Revolutionary War. Now visitors can explore the labyrinth of empty concrete gun emplacements set into the side of the hill. It's a military ghost town, but it's fun to climb all over the abandoned forts and take in some breathtaking views of Newport Harbor. And don't forget your scuba gear; this spot is a favorite amongst divers.
There is plenty to do on the streets and wharves of
Newport
, but when you are ready for a full-on beach day, join the Newport people at their favorite place,
Easton's Beach
, also known a First Beach, on 175 Memorial Blvd. This three-quarter-mile-long sand beach starts at the entrance to Cliff Walk, sweeping below the gaze of the elegant
Chandler at Cliff Walk
. Besides sun, sand, and surf, visitors to Easton's Beach can enjoy 1950's-era carousel, a
nature center
run by Save the Bay, and Rosie's Beach Store, which rents out beach chairs, boogie boards and umbrellas in summer. Facilities include restrooms, showers, a shade pavilion, playground, skate park, picnic and grill area, bike racks, first aid, beach wheel chairs for persons with disabilities, a snack bar and two parking lots.