Newport fishing takes you to beautiful beaches and ponds
Beavertail Road Jamestown, RI, 02835 Phone: 401-423-9941
Park with rocky shores, tide pools, salt water fishing, walking, picnicking, lighthouse
State park with glorious views at the end of Jamestown Island. Rocky shoreline is popular for surf casting. See
full description
Beavertail State Park.
On Bullock's Cove, off Metropolitan Park Drive Barrington, RI Phone: 401-253-7482
Seapowet Marsh and Point Fishing Area
Off Seapowet Avenue Tiverton, RI Phone:
Location: Off Seapowet Avenue, this refuge area includes a variety of coastal habitats. There is a parking area along a cobble beach north of the bridge over the Seapowet River and walking or driving access to Seapowet Point. There is a marsh on the point, popular for shellfishing. The beach is a good spot for walking, fishing, bird watching, or enjoying the view of the river.
Breakwater at entrance to Sakonnet Harbor
Bluffhead Road Little Compton, RI Phone:
At the end of Bluffhead Road and at the mouth of the Sakonnet River a breakwater is at the opening of Sakonnet Harbor. The breakwater is good for walking and fishing. There is no public ramp. On-site parking is available.
Van Zandt Fishing Pier
Van Zandt Avenue and Washington Street Newport, RI Phone:
Just south of the Newport Bridge is a public pier at the crossing of Van Zandt Avenue and Washington Street to Narragansett Bay. There is no on-site parking.
Goat Island Connector
Gladys Casrr Bolhouse Road Newport, RI Phone:
This causeway links downtown Newport to Goat Island. It's a popular spot for fishing. A paved road and two concrete sidewalks extend from the circle in front of the hotel to the west side of the causeway and Newport Harbor. Curbside parking is available.
Off Ocean Avenue just west of Prices Neck Road Newport, RI Phone:
Kings Beach is a fishing access site at the east end of Brenton Point State Park. There is a gravel parking lot and a rocky beach for launching only hand-carried sea kayaks. Waves from the Atlantic are heavy, and only experienced sea kayakers should attempt this water.
Route 14 Bristol, RI, 02809 Phone: 401-253-7482
Beautiful park along Narragansett Bay; walking trails; picnicking; playfields
There is lots of room for surf casting and shore fishing along the mostly rocky beaches of this large, open park on the eastern shore of Narragansett Bay. See
full description
of Colt State Park.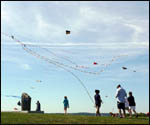 Ocean Drive Newport, RI, 02840 Phone: 401-847-2400
Surf casting is popular from the rocky shoreline of this beautiful state park. Excellent views of Narragansett Bay, islands, a lighthouse, and sometimes surfers. See full description of
of Brenton Point State Park
.
Stafford Pond
off Old Stafford Road Tiverton, RI Phone:
476 acres. Route 24 East to Fish Road South, to Bulgarmarsh Road, take left on Route 81. Stafford Pond Road, access on left. Parking: Yes.
at Freebody and Bayview drives Jamestown, RI Phone:
Potter Cove is a long sandy beach facing the East Passage of Narragansett Bay. The beach and Taylor Point are part of a town park where people like to fish, windsurf, paddle kayaks and have picnics. On the water here, prepare to handle large waves and heavy boat traffic. This is a site for launching hand-carried boats such as canoes or kayaks.
end of Barker Avenue Warren, RI Phone:
A gravel path leads to the Kickemuit River.
Mount Hope Fishing Access
Off Annawamscutt Drive Bristol, RI Phone:
A single-width concrete ramp that accommodates trailers leads into shallow water, protected by a breakwater on Mount Hope Bay. Nearby is a rocky beach and a marsh. Parking for 20 vehicles, or fewer with trailers. There's more parking along the entrance road.