Newport teems with Colonial history and intriguing historic inns
Rhode Island teems with history, from the Blackstone Valley, where the American Industrial Revolution was born in the textile mills there, to the shores of Newport, with its cobbled colonial streets and 19th-century Gilded Age mansions. Newport historical lodging, including first class hotels and inns, places visitors right at the places where history was made. These RI hotels and lodgings often are luxurious all by themselves, a wonderful place simply to relax and contemplate the passing of time.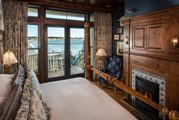 117 Memorial Boulevard Newport, RI, 02840 Phone: 401-847-1300 Toll-Free: 866-793-5664
Historic Elegance and Charm Above the Atlantic in Newport
Exceptional service, a scenic promontory above the Atlantic, and elegant reminders of the Gilded Age merge in this historic Newport hotel and landmark. Built in 1870 as a summertime retreat, our hotel in Newport, RI re-opened as The Chanler at Cliff Walk in 2003 with artifacts from its days as a museum now integrated into the current décor. On-site services and thoughtful touches include luxurious ocean and garden view villas and suites with unique decor and modern comforts and amenities. Four exceptional dining settings feature the bounty of New England farms and coasts. House car service, Wi--Fi , valet parking, and yoga on the lawn are complimentary, while Mansion tickets, private tour arrangements, fitness center passes, and the Beach Butler service are available at your call.