Newport museums and galleries offer a rich cultural history of RI
680 Bellevue Avenue Newport, RI, 02840 Phone: 401-847-8344
Artistic treasures and more on display at Doris Duke's mansion
This magnificent museum was originally the oceanfront estate of Doris Duke—heiress, philanthropist, and art collector. Built in 1887 with its historic landscape designed by Frederick Law Olmstead's firm, it remains as she left it with French furniture, European art, Chinese porcelains, and Flemish tapestries. . The expansive landscape features both formal and kitchen gardens as well as panoramic ocean views. In 1958 and 1959, Doris Duke began purchasing art and antiques for the house, combining these new pieces with family treasures. She lived there from May through November most years and continued to collect items for the house during her wide-ranging travels. Upon her death in 1993, Doris bequeathed the estate to the Newport Restoration Foundation, which opened the house and grounds to the public in 2000.

686 Cushing Road Newport, RI, 02841 Phone: 401-841-4052
Explore the naval history of Narragansett Bay
The Naval War College Museum collects, preserves, and exhibits artifacts and documents dating from the 1500s to the present day to interpret the naval history of Narragansett Bay, the Naval War College, and the history of naval strategy. Located in the historic Founders Hall built in 1820, the museum is open to the public and the exhibits are self-guided; guided group tours are available by reservation. Admission is free, however, for visitors without base access, reservations are required 7 business days in advance. Reservations are not required for those with access to the navy base.

Year round hours: Monday -Friday 10 a.m. to 4:30 p.m. The museum is also open on Saturdays from noon to 4:30 p.m. from June through September.
Coggeshall Farm Museum
Off Route 114 Bristol, RI, 02809 Phone: 401-253-9062
A 35-acre colonial farm, established in 1750. The museum features rare breeds of livestock, a barn, cooling house, blacksmith and springhouse. Open March-September, 10 am-6 pm; October-February, 10 am-5 pm.
Museum of Yachting at Fort Adams
Fort Adams State Park Newport, RI, 02840 Phone: 401-847-1018
The Museum of Yachting brings to the public eye the beauty and excitement which has led sailors to the water for centuries. It is a lively organization that reflects the international flavor of yachting in Newport, Rhode Island, and is dedicated to the preservation of the traditional skills, documents, vessels, and artifacts which record and describe the history and development of yachting around the world.
Hours: Wednesday-Sunday, 10 a.m.-5 p.m.
Cost: Adults, $5; seniors and children, $4.
Information: www.moy.org.
Haffenreffer Museum of Anthropology
Tower Street, off Route 136 Bristol, RI, 02809 Phone: 401-863-2065
A part of Brown University, this Rhode Island museum focuses on the arts and culture of Native American, African, Southeast Asian, and Oceanic societies throughout history.
Hours: Year-round, Tuesday-Sunday, 10 a.m. to 4 p.m.; closed Mondays and Brown University holidays.
Admission: Free
Information: www.brown.edu/Facilities/Haffenreffer/
Charles W. Greene Museum
Main Street Warren, RI, 02885 Phone: 401-245-7686
This museum houses the Charles R. Carr collection of pre-Columbian, Peruvian, and North American Indian artifacts including wampum and glass beads. Colonial fishing and farm also are featured. Open Wednesday from 2 pm to 4 pm and by appointment.
National Museum of American Illustration and Frederick Law Olmsted Park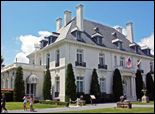 Vernon Court at 492 Bellevue Avenue Newport, RI, 02840 Phone: 401-851-8949
This, the world's largest collection original art from the Golden Age of American Illustration, presents works by Maxfield Parrish, Norman Rockwell, N.C. Wyeth and 150 others. Vernon Court is a furnished 1898 Gilded Age mansion and a national treasure, creating a special unity of art and architecture.
Hours: Memorial Day to Labor Day, Thursday-Sunday, 11 a.m.-5 p.m. with a public tour at 3 p.m. Fridays. Labor Day to Memorial Day, Friday only, 11 a.m.-5 p.m., with a public tour at 3 p.m. Closed holidays; see website for last-minute changes. Open year-round by advance reservation for groups or private tours.
Admission: See website.
Information: www.americanillustration.org.
Museum of Newport History
127 Thames Street Newport, RI, 02840 Phone: 401-846-0813
The museum offers a overview of Newport, Rhode Island, history to life with exhibits of decorative arts, artifacts of everyday life, graphics, historic photographs, audio-visual programs, fine ship models, brilliant paintings, exquisite Colonial silver, the printing press used by James Franklin, a ball gown worn by a member of the Summer Colony, the figurehead from the yacht Aloha, and much more. The museum is a great place to visit and thing to do on your next vacation with children when you are looking for a unique family activity.
Hours: Mid-June-September 4, daily, 10 a.m.-4 p.m.; April 20-June 11 and September 7-December 23, Thursday-Saturday, 10 a.m.-4 p.m.; Sunday, 1-4 p.m.; closed Christmas to mid-April.
Admission: Donation.
Information: www.newporthistorical.org.
Fire Museum
Baker Street Warren, RI, 02885 Phone: 401-245-7600
This former fire barn on Baker Street once housed the Narragansett Steam Fire Co. Station #3 in the 1800s. Faithfully restored, it now houses the volunteer fire department's museum and The Little Hero, the first fire engine purchased by the town in 1802. Open by appointment. Call the fire chief.
Herreshoff Marine Museum and America's Cup Hall of Fame
1 Burnside Street Bristol, RI, 02809 Phone: 401-253-5000
The museum and hall of fame present the story of the Herreshoff Manufacturing Company and the America's Cup competition. From 1863 to 1945, the Herreshoff Manufacturing Company produced the world's finest yachts on the cutting edge of design and engineering. This Rhode Island museum's collection includes 60 original Herreshoff boats, steam engines, artifacts, and photographs from the Golden Age of Yachting.
Hours: April 26-November 2, 10 a.m.-5 p.m.; other times of year by appointment.
Admission: Adults, $10; seniors over age 65, $8; military, $8, youth over age 10, $5.
Information: www.herreshoff.org/