A Newport hotel, inn, or resort is a perfect choice for a romantic getaway
Newport, Rhode Island, is world-famous for its Gilded Age mansions, Colonial waterfront, tennis museum, and as the former home of the America's Cup in yacht racing. A compact and walkable city of old, Colonial buildings, it also is ideal for a romantic weekend getaway. The city is loaded with delightful bed and breakfast inns (B&Bs) that offer intimate luxuries of every kind (think: Jacuzzis). There are also waterfront resorts, hotels, inns, and motels of all descriptions. While in town, be sure to tour Ocean Drive, visit some mansions, and dine on seafood at some of the many restaurants on the wharf.
25 America's Cup Avenue Newport, RI, 02840 Phone: 401-849-1000
Rendezvous for romance at seaside Newport
Few places combine romance and the sea as perfectly as Newport. Write your own story of romance in a place where lighthouse foghorns moan, wave lap the shore, and the salt air whispers of adventure, Enjoy incomparable comfort in redesigned guest rooms and suites offering thick mattresses, 300 thread-count linens, and fluffy pillows. Stay in or enjoy the 24-hour fitness center and spa for some sensual relaxation and personal attention from a masseuse or trainer. Outdoors holds secrets and treasures for lovers, like Cliff Walk, the Newport Mansions, quaint shops and cafes, great restaurants, churches, museums or anywhere you are along the water. Breakfast, lunch and dinner are served at the hotel's MainSail restaurant, overlooking that majestic harbor.
9 Commerce Drive Middletown, RI, 02842 Phone: 401-849-8000
The romance of the sea and a great city await.
Slip away to this romantic New England seacoast destination central to everything the "city by the sea" has to offer. Settle down with luxury bedding, thick mattresses, cotton-rich linens, and plush pillows with room amenities including flat-screen TVs and free high-speed Internet. Enjoy the fitness center, a whirlpool tub, and indoor and outdoor pools. Then explore the historic colonial era downtown and harbor, relax on spectacular beaches, stroll Cliff Walk, and tour the famous Gilded Age mansions on Bellevue Avenue. Starbucks is here in the Bistro restaurant to help you start your day and you can dine in or stop in for evening cocktails, wine and beer. It's casual and cozy and the ocean views will take your breath away.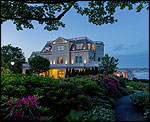 117 Memorial Boulevard Newport, RI, 02840 Phone: 401-847-1300 Toll-Free: 866-793-5664
At The Chanler, Experience Relaxation Among Newport Luxury Hotels
Imagine awakening in a full-canopied four-poster bed, where the windows offer breathtaking ocean views. Such luxury could be yours with a romantic New England getaway at The Chanler at Cliff Walk, a European-style luxury hotel in Newport, RI. Our property is a historic mansion built in the Gilded Age, overlooking the ocean and within walking distance of Newport's famous Cliff Walk, featuring a romantic trail along the shoreline. Explore our Newport guestrooms, which include secluded courtyards, private outdoor hot tubs, Jacuzzis (some with ocean views and room for two), and elegant decor. Have our restaurant team prepare you a picnic lunch for your day at the beach, where our butler will set up your chairs and umbrella. Dine at our Spiced Pear Restaurant, a culinary gem where the menu includes Butter Poached Maine Lobster and Free Range Duck Breast.
75 Mill Street Newport, RI, 02840 Phone: 401-849-9500 Toll-Free: 800-392-1316
The history of romance continues here
This historic landmark also makes for a very cozy hideaway for two. Maybe it's the neighborhood or the intimate breakfasts on the patio with breathtaking views. The harbor is nearby as is Thames Street for unmatched waterfront shopping, great food and leisurely strolling. Your suite is bathed in Newport charm with original beams and exposed brick walls. Fall into down feather beds, 300 thread count linens, luxurious marble bathrooms with rainfall and high pressure shower, and plush bathrobes. Choose right and you'll also enjoy a balcony, living room, and gas fireplace. A mini-bar and fridge will provide all the nourishment you might need, while complimentary continental breakfast and afternoon tea can fill in the gaps. Romance deserves a luxurious level of service and hospitality. You'll find them here.