Newport has lovely forests, parks, for walking and hiking
The Newport Cliff Walk is a 3.5-mile elevated, winding path along Newport's shoreline with breathtaking views of Narragansett Bay and the rocky coves below. The walk runs from Bailey's Beach to First Beach, with public access points at Bellevue Avenue, Ledge Road, Marine Avenue, Ruggles Avenue, Sheppard Avenue, Webster Street, and Narragansett Avenue. The walk skirts the edges of some of the city's mansions, including Beechwood, Rosecliff, Marble House, and The Breakers. The northern end of the walk, beginning at Memorial Blvd., is paved and easy; the southern end of the walk -- less used by the public -- has unpaved sections and rugged paths. Information: www.cliffwalk.com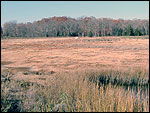 Touisset Road Warren, RI, 02885 Phone: 401-949-5454
These 66 acre are a fine example of salt marsh and bordering upland field and wooded habitat for visitors enjoy for walking and hiking in Rhode Island. A trail from the Touisset Fire Station on Touisset Road leads through fields to the Kickemuit River. Take I-195 East to Rte in North Swansea. Take Rte. 136 South to Rte. 103 (Child Street) in Warren. Go left (east) on Rte. 103 to Long Road. Go right onto Long Road and follow to end at Barton Avenue. Go left on Barton Avenue then t take first right onto Touisset Road. Follow it south to the next sharp left corner at fire station. Turn right into parking lot area and park at the westernmost edge of parking lot.

Seapowet Avenue Tiverton, RI, 02878 Phone: 401-949-5454
A 50-acre parcel of woods and salt marsh with a nature center and fine views of the Sakonnet River. The refuge has blinds for observing and photographing nature as well as plenty of land for walking and hiking while enjoying the outdoors. From Providence take I-195 East to Rte. 24 South (in Fall River, MA). Travel Rte. 24 South to the Rte. 77 South exit. Follow RTE.77 South to Seapowet Avenue. Turn right onto Seapowet Avenue and continue down the hill to the refuge parking lot on the right.
Narragansett Bay National Estuarine Sanctuary
Prudence Island Portsmouth, RI Phone: 401-683-6780
National environmental preserve with a self-guided hiking trail and guided nature walks and hikes. The park has a picnic area, swimming, and boating areas. Accessible via a ferry from Bristol.
Hours: Memorial Day-Labor Day, dawn to dusk.
Information; http://www.nbnerr.org/index.html
Dundery Brook Trail
Little Compton School, Meeting House Lane (park by the tennis courts) Little Compton, RI Phone: 401-331-7110
This 2.7-mile round trip stroll through a forested wetland includes a 3,100 foot long handicapped accessible boardwalk path connecting to a 4,100 foot long grass path around a pond on Bumble Bee Preserve. The path of the boardwalk zigzags across vernal pools, a sizable brook, two stone walls, and a treasure trove of biodiversity.
Beavertail Road Jamestown, RI, 02835 Phone: 401-423-9941
Park with rocky shores, tide pools, salt water fishing, walking, picnicking, lighthouse
This beautiful park overlooking Narragansett Bay is surrounded by a rocky shoreline. Great fun to walk in the grassy highlands and especially on the rocks, exploring the life of tide pools are you go. Kids love it. See
full description
Beavertail State Park.
455 North Road Jamestown, RI Phone: 401-423-0005
Started in 1796, this working farm is set on 265 acres and features cattle, sheep, horses, chickens and a garden. A two-mile walking trail and self-guided tours take visitors on a trip through the history and seasonal cycles of the farm. School programs and demonstrations are available.
Norman Bird Sanctuary
583 Third Beach Road Middletown, RI Phone: 401-846-2577
This 450-acre refuge includes several wildlife habitats and seven miles of walking trails that are a great destination for a fun afternoon on your next Rhode Island family vacation. The site also houses an on-site museum, educational area, and small gift shop. Spring and fall bird walks are held there. In 2016, the Sanctuary finished a new, 1650-foot trail for people with disabilities. The universal trail winds through fields, wetlands and forest down to Red Maple Pond. It is accessible from the Welcome Center.
Hours: Open Memorial Day-Labor Day, daily, 9 a.m.-5 p.m.
Information: www.normanbirdsanctuary.org/
Historic Downtown Newport
The area surrounding America's Cup Avenue Newport, RI Phone:
A stroll in the streets of downtown Newport, Rhode Island will take you along the water, past dozens of historic buildings, several museums and attractions, and through many outdoor malls and shopping centers. Wonderful in-town walking takes you deep into picturesque Colonial neighborhoods.
Ocean Drive Newport, RI Phone: 401-847-2400
Historic fort property hosts picnics, swimming, fishing, historic reenactments, sailing
Lots of nice walks on the huge park overlooking Newport Harbor and the eastern flank of Narragansett Bay. See
full description
of Fort Adams State Park.
Route 14 Bristol, RI, 02809 Phone: 401-253-7482
Beautiful park along Narragansett Bay; walking trails; picnicking; playfields
This large, open park on the eastern shore of Narragansett Bay has many drives and trails for walking and biking. It is very close to the famous
East Bay Bike Path
.
Map
of Colt State Park.
See
full description
of Colt State Park.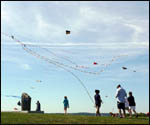 Ocean Drive Newport, RI, 02840 Phone: 401-847-2400
Park rises above Ocean Drive and offers big, grassy slopes for walking and picnicking. Also, walks down to the rocky shoreline to explore the tide pools. See full description of
of Brenton Point State Park
.
Barrington Civic Center Historic District
The historic section of Barrington features the Barrington Town Hall, built in 1888, and the library. This unusual structure was built in a medieval style, with stone towers. The library is in a school from the early 20th century. Also on site, colonial cemetery and a pond.