Providence/Warwick attractions reveal the the area's natural and social history
Providence offers great
things to do
, food, visual and performing arts, and culture. WaterFire lights the three rivers of downtown with gondolas transporting fire-goers. The Roger Williams Park Zoo is open year-round, as are the Botanical Gardens, with beautiful, seasonal plantings, and a waterfall. There's ice skating in the heart of the city and one of the finest surviving examples of hand-carved carousels in the country built in 1900 is on hand. The city and environs is home to stylish
boutique hotels
.
10 Memorial Boulevard Providence, RI, 02903 Phone: 401-456-0200
Providence - The Creative Capital
Providence is known for its diverse culinary, and arts and culture scenes. Home to the Rhode Island School of Design, the city also features the RISD Museum of Art. The performing arts are also a big part of the Providence arts scene, led by Tony Award-winning Trinity Repertory Company and the Providence Performing Arts Center, which hosts touring Broadway shows, plays and concerts. One of the city's most popular events is WaterFire, a multi-sensory art installation, highlighted by a series of bonfires installed on the three rivers of downtown Providence. Roger Williams Park Zoo has delighted generations of visitors. The Alex and Ani City Center boasts ice skating in the heart of downtown. For more things to see and do in Providence, visit
GoProvidence.com
.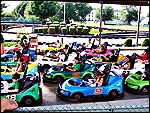 1098 Fall River Avenue Seekonk, MA, 02771 Phone: 508-336-8307
A grand day out at the Grand Prix
Imagine that a friendly game on mini golf course and 60 of your favorite video games are just the appetizers. It's go karts on specially designed state of the art tracks that make this place sing and dance. There's the ¼ miles Family Track, the largest in New England that gets you humming through speedy straight-aways, hairpin curves, tunnels and new two-seater go-karts. There's the slippery Slick Track to test your skills, a new Rookie Track for the youngest, and a Kiddy Track and Beginner Track got the growing youth. Bumper cars and boats in a gigantic pool will whet your appetites and your buddies. And who doesn't love go karts. Check out the group rates and bring the gang.
1000 Elmwood Avenue Providence, RI, 02907 Phone: 401-785-3510
Year Round Events at New England's Historic Zoo
Roger Williams Park Zoo, one of the oldest in the nation, is home to 100 species of rare and fascinating animals from around the world. Open year round, the Zoo offers up close and personal animal encounters, the opportunity to visit with over 100 rare and fascinating animals, and a variety of special events including Zoobilee: Feast with the Beasts in late June, local favorite Brew at the Zoo in August, and the Zoo's renowned Jack-O-Lantern Spectacular in October. For more information please visit rwpzoo.org
1000 Elmwood Avenue Cranston, RI, 02907 Phone: 401-785-9450
Indoor conservatory is open year-round. Beautiful, seasonal plantings, waterfall, warm interlude in cold weather. See
full description
of Roger Williams Park Botanical Center.
Crescent Park Carousel
Crescent Park, 700 Bullocks Point Avenue Riverside, RI, 02915 Phone: 401-435-7518
The Crescent Park Carousel, one of the finest surviving examples of hand-carved carousels in the country, was built just prior to 1900 by Charles I. D. Looff as a display model. Open Wednesday through Sunday, noon to 7 pm. Easter weekend and Memorial Day weekend and from June through Labor Day. After Labor Day through Columbus Day, open Saturday and Sunday, noon to 8 pm. Wheelchair accessible.