South County offers lovely scenic drives especially along beaches and villages
Route 4 Southbound to the Rhode Island Beaches – 29 miles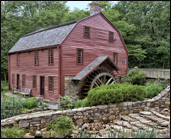 inland route from East Greenwich to Charlestown beaches East Greenwich, Exeter, Carolina, Kingston, RI Phone:
This inland, southbound route takes you very pretty interior towns of southern Rhode Island from I-95 in West Warwick and East Greenwich to Route 1 in Charlestown, mostly via Routes 2 and 112. Route 1 runs parallel to the shore of Long Island Sound and gives access to several beautiful beaches and a saltwater pond. You pass close to Kingston and University of Rhode Island on Route 138.
Nearby Points of Interest:
♦
Ninigret National Wildlife Refuge
.
♦
Trustom Pond National Wildlife Refuge
.

Route 112 to Route 2 Richmond to Charlestown, RI Phone:
Length: 2 miles
Shannock Road passes through the town of Charlestown and Shannock Village from Route 2 to Route 112. Along the way, there are beautiful views of homes, farms, and a 1850 textile mill village, a well-preserved example of these communities, including housing for mill workers. Shannock Village itself is on the National Register of Historic Places.
Route 1A
Route 1A is a delightful, scenic diversion from US Route 1. The road meanders along the coves and inlets, affording riders with views of water and the countryside. Accessible from Route 1 at several points in South County.