Rhode Island attractions guide vacationers to the heart of this quirky state
Rhode Island never comes up short for attractions. The largest assortment of historic places and landmarks in the country is here, as are nationally celebrated restaurants, seaside towns and
resorts
. In 2014, Providence was named the #1 City in the U.S. in Travel + Leisure's Favorite Cities poll for its
hotels
, food and culture. Discover spectacular beaches, farms and vineyards, nature preserves, and beautiful gardens. Take a riverboat tour on the very river – the Blackstone -- that spun the first mill into operation in the U.S., and stop in at the America's Cup Hall of Fame in Newport.
10 Memorial Boulevard Providence, RI, 02903 Phone: 401-456-0200
Providence - The Creative Capital
Providence is known for its diverse culinary, and arts and culture scenes. Home to the Rhode Island School of Design, the city also features the RISD Museum of Art. The performing arts are also a big part of the Providence arts scene, led by Tony Award-winning Trinity Repertory Company and the Providence Performing Arts Center, which hosts touring Broadway shows, plays and concerts. One of the city's most popular events is WaterFire, a multi-sensory art installation, highlighted by a series of bonfires installed on the three rivers of downtown Providence. Roger Williams Park Zoo has delighted generations of visitors. The Alex and Ani City Center boasts ice skating in the heart of downtown. For more things to see and do in Providence, visit
GoProvidence.com
.
35 Valley Road Middletown, RI, 02842 Phone: 401-847-1600
Newport County is steeped in history and beauty. The City on the Sea, in addition to the famous mansions, has the distinction of having more authentic colonial era structures than any other American city. The region, which also includes Jamestown, Portsmouth and Middletown, features beaches, vineyards, scores of great and interesting shops, an array of restaurants, luxury hotels and quaint inns and B&Bs. Beautiful parks and dramatic vistas are found along Ocean Drive. Also not to be missed are the Tennis Hall of Fame, Fort Adams, and Newport's world famous folk, jazz, and classical music festivals. The Newport County Chamber of Commerce can provide you complete information and help in planning your visit.
1000 Elmwood Avenue Providence, RI, 02907 Phone: 401-785-3510
Year Round Events at New England's Historic Zoo
Roger Williams Park Zoo, one of the oldest in the nation, is home to 100 species of rare and fascinating animals from around the world. Open year round, the Zoo offers up close and personal animal encounters, the opportunity to visit with over 100 rare and fascinating animals, and a variety of special events including Zoobilee: Feast with the Beasts in late June, local favorite Brew at the Zoo in August, and the Zoo's renowned Jack-O-Lantern Spectacular in October. For more information please visit rwpzoo.org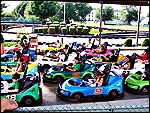 1098 Fall River Avenue Seekonk, MA, 02771 Phone: 508-336-8307
A grand day out at the Grand Prix
Imagine that a friendly game on mini golf course and 60 of your favorite video games are just the appetizers. It's go karts on specially designed state of the art tracks that make this place sing and dance. There's the ¼ miles Family Track, the largest in New England that gets you humming through speedy straight-aways, hairpin curves, tunnels and new two-seater go-karts. There's the slippery Slick Track to test your skills, a new Rookie Track for the youngest, and a Kiddy Track and Beginner Track got the growing youth. Bumper cars and boats in a gigantic pool will whet your appetites and your buddies. And who doesn't love go karts. Check out the group rates and bring the gang.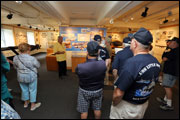 686 Cushing Road Newport, RI, 02841 Phone: 401-841-4052
Naval history from ancient to modern times focus of extensive museum collection
Explore the history of naval warfare and the naval heritage of Narragansett Bay when you visit the Naval War College Museum. The museum's history begins with Founders Hall, the college's original site. The stately building is now a National Historic Landmark. Inside, find priceless art, artifacts and documents that bring alive naval history and battles from ancient times to the present. Displays include naval uniforms, ship models and maps, relics from the Naval Torpedo Station and wars in which the Navy has played a critical role. U.S. citizens who want to visit must submit information for a background check seven days before arrival; 14 days for non-citizens.
Year round hours: Monday -Friday 10 a.m. to 4:30 p.m. The museum is also open Saturdays from noon to 4:30 p.m. June through September.
909 East Main Road (Route 138) Middletown, RI, 02842 Phone: 401-848-5161
The best of Newport and an exceptional glass of wine
Newport Vineyards is the region's premier agritourism destination and the largest grower of wine grapes in New England producing and bottling over 20,000 cases of estate-grown wine each year on 60 prime vineyard acres. Minutes from Newport and easily accessible from Providence, Boston and New York, you'll find fine wine grown in an extraordinary micro climate on beautifully preserved agricultural land. There are daily tours and tastings, facilities for public and private events, a wine shop, and seasonal activities that will keep you coming back for music, comedy, clambakes and celebrations of every kind. With Brix Restaurant, The Vineyard Café, Marketplace, new Tasting Room and Tank Room, there is something for everyone at Newport Vineyards.
Slater Memorial Park Carousel
Newport Avenue (Route 1A) Pawtucket, RI, 02861 Phone: 401-728-0500 Ext - 25
The stately grounds of this park include an early carousel by Danish immigrant Charles I. D. Looff. The carousel boasts 42 horses, three dogs, and a lion, camel, and giraffe; they are some of the earliest examples of Looffs work.
Hours: Open during warm weather: Saturday and Sunday, 11 a.m.–5 p.m. Call ahead for changes in hours.
Admission: Rides are 25 cents.
Information: http://nationalcarousel.org/psp/Pawtucket
Charles W. Greene Museum
Main Street Warren, RI, 02885 Phone: 401-245-7686
This museum houses the Charles R. Carr collection of pre-Columbian, Peruvian, and North American Indian artifacts including wampum and glass beads. Colonial fishing and farm also are featured. Open Wednesday from 2 pm to 4 pm and by appointment.
Crescent Park Carousel
Crescent Park, 700 Bullocks Point Avenue Riverside, RI, 02915 Phone: 401-435-7518
The Crescent Park Carousel, one of the finest surviving examples of hand-carved carousels in the country, was built just prior to 1900 by Charles I. D. Looff as a display model. Open Wednesday through Sunday, noon to 7 pm. Easter weekend and Memorial Day weekend and from June through Labor Day. After Labor Day through Columbus Day, open Saturday and Sunday, noon to 8 pm. Wheelchair accessible.
1000 Elmwood Avenue Cranston, RI, 02907 Phone: 401-785-9450
Indoor conservatory is open year-round. Beautiful, seasonal plantings, waterfall, warm interlude in cold weather. See
full description
of Roger Williams Park Botanical Center.
Green Animals Topiary Gardens
380 Cory's Lane off Route 114 Portsmouth, RI, 02871 Phone: 401-847-1000
Delightful property inhabited by giant animals carved from bushes. Fun for the young and young at heart. Open seasonally. See
full description
of Green Animals Topiary Gardens.
Herreshoff Marine Museum and America's Cup Hall of Fame
1 Burnside Street Bristol, RI, 02809 Phone: 401-253-5000
The museum and hall of fame present the story of the Herreshoff Manufacturing Company and the America's Cup competition. From 1863 to 1945, the Herreshoff Manufacturing Company produced the world's finest yachts on the cutting edge of design and engineering. This Rhode Island museum's collection includes 60 original Herreshoff boats, steam engines, artifacts, and photographs from the Golden Age of Yachting.
Hours: April 26-November 2, 10 a.m.-5 p.m.; other times of year by appointment.
Admission: Adults, $10; seniors over age 65, $8; military, $8, youth over age 10, $5.
Information: www.herreshoff.org/
Coggeshall Farm Museum
Off Route 114 Bristol, RI, 02809 Phone: 401-253-9062
This is a 35-acre colonial farm, established in 1750. This Rhode Island museum features rare breeds of livestock, a barn, cooling house, blacksmith, and springhouse, making it a great thing to do with kids for a family activity on vacation.
Hours: Year-round, Tuesday-Sunday, 10 a.m.-4 p.m.
Cost: Adults, $5; children, $3.
Information: www.coggeshallfarm.org.
Blithewold Mansion, Gardens & Arboretum
101 Ferry Road / Route 114 Bristol, RI, 02809 Phone: 401-253-2707
The glorious mansion, built in the early 1900s for a wealth Chicago family, is in the English country manor style with Colonial Revival elements. House tours on the 45-room mansion demonstrate the lively activities and occupations of this home of independent-minded women (following the first generation). The lawns and gardens are spectacular, varying from season to season. Many special events for adults and children are hosted throughout the year.
See
full description
of Blithewold Mansion, Gardens, and Arboretum.
Departs from Central Fall landing, 45 Madeira Avenue Central Falls, RI Phone: 401-724-2200
The Blackstone Valley Explorer is a 40-passenger riverboat, the only one of its kind on the Blackstone River. Since 1993, when the boat cruises began, more than 25,000 passengers annually have come from local, national and global destinations to take 45 minute narrated tours along sections of the Blackstone River. Explore the river that was once called "America's Hardest Working River" and discover the river's ecosystem as you learn about the river's industrialized past, the river's restoration, and what we are doing to help the river live again. Public tours held on Sunday afternoons from early May to mid-October. Private charters also available by advance appointment.
Fire Museum
Baker Street Warren, RI, 02885 Phone: 401-245-7600
This former fire barn on Baker Street once housed the Narragansett Steam Fire Co. Station #3 in the 1800s. Faithfully restored, it now houses the volunteer fire department's museum and The Little Hero, the first fire engine purchased by the town in 1802. Open by appointment. Call the fire chief.