Family activities get you into the parks and on the Rhode Island seashore
Little Rhody is big on family fun. It's easy to travel about this compact state, and a great place to
stay with kids
and
pets
. You'll enjoy the Ocean State's many beaches, parks, farms, nature preserves, and outdoor activities. Roger Williams Park Zoo offers close encounters with over 100 species of rare and fascinating animals. Race go carts on the longest family track in New England. Visit gigantic green animal sculptures and quaint fishing villages. There are lighthouses, Block Island and Newport to explore, plus renowned colleges and universities, great restaurants and delicious local seafood to savor.
Multiple Centers & Dock Locations Providence, Newport, Westerly, RI and Fall River, MA Phone: 401-272-3540
Enjoy great family fun and help protect an environmental treasure
Get the whole family involved in protecting, restoring and learning about one of the earth's most diverse ecosystems. Save The Bay offers several hands-on experiences for every age. Kids in grades K-12 can explore the more than 400 miles of unparalleled natural beauty along the shoreline, in and on the water during Save The Bay's week-long summer BayCamps. The ocean-front Exploration Center and Aquarium at Easton's Beach in Newport is open year-round, offering several touch tanks and close-up views of hundreds of creatures. Participate in a beach cleanup – keeping trash and litter out of local waters. In the winter, climb aboard a vessel to see harbor seals in their natural habitat.
Boat tours depart from Newport, Westerly, Providence RI and Fall River, MA.
1000 Elmwood Avenue Providence, RI, 02907 Phone: 401-785-3510
Fun and Fascination for Everyone in the Family
Roger Williams Park Zoo provides visitors the opportunity to see animals from all over the globe – some over a million years old. Naturalistic surroundings are home to more than 100 species of animals including a Komodo dragon, as well as zebra's, red pandas, African elephants, Masai giraffes, snow leopards, bears, anteaters, flamingoes, sloths, alligators, and more! Kids from two to 102 have the opportunity to feed giraffes and harbor seals, as well as an array of farmyard animals. For something slightly out of the ordinary, try our Explore and Soar area offering an exhilarating zip ride, a train excursion through the woodlands, and a camel ride. Coming summer 2018 – an Amazon Rainforest. The Zoo is open year round. For more information and hours, please visit rwpzoo.org.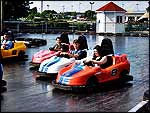 1098 Fall River Avenue Seekonk, MA, 02771 Phone: 508-336-8307
Race your family and your friends at Seekonk Grand Prix
Here's a great day out for the whole family – go karts on tracks designed with everyone in mind. The longest Family Track in New England gets you revved up through speedy straight-aways, hairpin curves and tunnels and two of you can now ride the new two-seater go-karts. The Slick Track will test your mettle, and there's a new Rookie Track for the youngest and Kiddy Track and Beginner Track as they grow - so there's never a time not to be driving your own cart. Bumper cars and boats stretch the envelope of fun and you can take on the family in a friendly game of mini golf. Rain or shine enjoy more than 60 of your favorite arcade games.
Green Animals Topiary Gardens
380 Cory's Lane off Route 114 Portsmouth, RI, 02871 Phone: 401-847-1000
Fun, fanciful gardens of topiary animal figures. Great for families and kids. See
full description
of Green Animals Topiary Gardens.