Rhode Island fall foliage looses a wash of colored leaves
Beautiful Fall Foliage in Rhode Island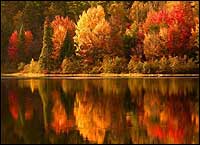 Rhode Island shows its brightest colors in October. Western and northern Rhode Island are heavily wooded.
Blackstone Valley region
includes the towns of Pawtucket, home of
Slater Mill,
the birthplace of the Industrial Revolution in America. The
Blackstone Valley Explorer
river boat offers trips on the river into mid-October. Beautiful foliage will be on display at
Roger Williams Park and Zoo
in
Providence
; and at
Blithewold Mansion & Gardens
in Bristol. In
South County
, a great scenic drive is Route 1 and Route 1A from Westerly to Wickford.
Getting Ready
See useful information about when to visit, how to find color, and what to wear and pack
HERE.
More Resources:
Where to Drive
Find directions and tips for great views and attractions on the drive tours described below.
Newport Region
Ocean Drive in Newport
-- This winding drive that offers fantastic views of the Atlantic Ocean and Fort Adams State Park. Tip: If you are making the drive on sunny afternoon travel Ocean Drive beginning at the Fort Adams end to avoid glare from a setting sun.
See detailed driving directions below.
Nearby Points of Interest:
Cliff Walk, starting at Memorial Boulevard at Memorial Blvd & Eustis Avenue, Newport. Glorious views of Narragansett Bay and Jamestown Island from this paved walk along the edge of Newport, passing many mansions and college properties. Much of the walk is accessible to wheelchairs and young children; some is not, because of rugged rocks. See website.
Fort Adams State Park, 1 Lincoln Drive, Newport. Historic park on Newport harbor with beautiful views of Narragansett Bay and sail boats. Amateur war historians can tour the fort, including deliciously creepy underground catacombs. The fort hosts lots of seasonal events, like the famous Newport jazz and folk festivals. Plan ahead and take a sailing lesson Sail Newport! (401-841-0707)
Newport Exploration Center, Easton's Beach, 175 Memorial Blvd., Newport, is operated by the very impressive Save the Bay group. Cool maritime museum for children. Kids will love petting a skate or turtle in the touch tanks and learning about the sea life hiding in the sands and rocks. (401-849-8430)
♦ Enter
Newport
, on Aquidneck Island, by Route 138 East across the Jamestown Verrazano Bridge, across Jamestown Island, and then across the Claiborne Pell (Newport) Bridge into Newport
♦ Exit the bridge to the right. Follow Farewell Street to America's Cup Avenue through the downtown
♦ America's Cup Avenue turns into Thames Street and Thames Street turns into Carroll Avenue
♦ At the end of Carroll Avenue, turn right onto Ocean Drive (or follow signs)
♦ Ocean Avenue loops around the tip of the island, returning to rejoin Thames Street.

Brake for Farm Stand! If you want to make a side trip out of Newport to the neighboring town of Middletown, head for Sweet Berry Farm on Mitchell's Lane for pick your own apples and other treats.
---
Conanicut Island (also called Jamestown Island)
-- Driving the roads of this island town will provide spectacular scenery of Narragansett Bay, rolling fields, historic homes and the quaint village center in Jamestown. Enjoy meandering and don't worry about getting lost.
See detailed driving directions below.
Nearby Points of Interest:
Beavertail State Park, Beavertail Road, Jamestown. Park on a peninsula, with a lighthouse and spectacular views. Easy to walk on shore rocks and explore tidal pools' sea life. (401-884-2010)
Watson Farm, 455 North Road, Jamestown (401-423-0005). Beautiful historic farm is open to visitors for walking tours and occasional events and classes, like watercolor painting, harvesting plants for traditional medicinal uses, and more farm skills.
Rose Island Lighthouse, off the shore of Newport, between Newport and Jamestown Island, in Narragansett Bay (401-847-4242). Plan a trip to the island by ferry from Newport. Offered in the warm seasons.
♦ Enter
Jamestown
, on Conanicut Island, by taking Route 138 East across the Jamestown-Verrazano Bridge.
♦ Take the first exit off Route 138 after entering the island. Turn right. A series of roads loops around the perimeter of the entire island: North Road to Southwest Avenue to Hamilton Avenue to Walcott Avenue to Conanicus Avenue to East Shore Road to Summit Avenue to North Main Road.
♦ Side trip: at the end of Southwest Avenue, take Beavertail Road to Beavertail State Park, located on a spur of land southwest of the main body of the island.
---
Blackstone Valley Region
Scituate Loop
-- This drive will take you around portions of the Scituate Reservoir, the pristine water source for much of Rhode Island. Access to the shoreline and water is not allowed.
See detailed driving directions below.
Nearby Points of Interest:
Scituate Art Festival, center of Scituate. Festival is always on Columbus Day weekend. Great occasion for arts and crafts and antiques and fair food. Opportunity for Christmas shopping.

Brake for Farm Stand! Salisbury Farm at Pippin Orchard Road and Plainfield Pike in Johnston is a multi-generational farm that celebrates fall with pumpkins, a corn maze; hay rides on the weekends; and a farm stand with strawberries, sweet corn, raspberries, pumpkins, hay and straw, and decorations.


♦ From I-295 take Exit 4 to Route 14 West.
♦ Go through the intersection with Route 116. You will pass over part of the reservoir and then into the pretty town of Scituate
♦ Continue on Route 14 out of town and then turn left onto Route 12. This will take you across the Hope Dam.
♦ At Route 116 turn left, traveling north. At Route 14 turn right and retrace your drive back to I-295.


---
Providence Region
Goddard Park in Warwick/East Greenwich
-- Goddard Park, a local favorite surrounded by miles of beautiful stone walls, has miles of woodsy horse trails, open fields with large old trees, a beach and nine-hole golf course.
Nearby Points of Interest:
Goddard Memorial State Park, 1095 Ives Road, Warwick (401-884-2010). Big, green lawns with picnic shelter and grills; walks and horseback trails in wooded stretch along Greenwich Bay; golf course; swimming beach -- great for families, picnics, walks, celebrations.
♦ From I-95 take Exit 8 to Route 2 South
♦ At the first set of lights turn left onto Route 401 and take 2.5 miles into the village of
East Greenwich
, which has a sweet Main Street with lots of places to drink coffee or dine (it's also a hub of wedding apparel businesses)
♦ Turn right onto Route 1 South. At next light turn left onto Forge Road
♦ Goddard Park comes up on left behind the very long stone wall. Entrance is at the far end of the wall
---
South County Region
Route 3 Through West-Central Rhode Island
-- A quiet drive through many pretty, small towns.
♦ Route 3 parallels I-95 from Exit 1 to Exit 6. Traveling north on I-95 take Exit 1 just after you cross into
Rhode Island
from
Connecticut
♦ Get on Route 3 North in
Hopkinton
. You'll drive through the little village of Hopkinton with its old country store and then on to
Hope Valley
♦ At a traffic light in Hope Valley Route 3 forks to the left, and Route 138 to
Newport
goes to the right. Bear left, staying on Route 3. Pass the State Police barracks and travel under the interstate
♦ Stay on Route 3 as you travel through
Exeter
and
West Greenwich
♦ After you pass a big field and cemetery on the left and travel down hill you will see an elevated I-95 running parallel on your left. You can soon rejoin I-95 at Exit 6
---
Route 1A along the Rhode Island Coastline
-- Route 1A is a delightful, scenic diversion from US Route 1. The road meanders along the coves and inlets, affording riders with views of water and the countryside. It is accessible from Route 1 at several points in South County. The following directions begin in Westerly, at the state's extreme southwestern corner.
See detailed driving directions below.
Nearby Points of Interest:


♦ Get to Westerly by taking I-95 (northbound or southbound) to exit 92 in Connecticut.
Follow Route 2 south of West Broad Street in Pawcatuck, Connecticut
♦ Turn left onto Broad Street and cross the Pawcatuck River and you will be in downtown Westerly
♦ Follow signs for Route 1A through Westerly, and along the shoreline, traveling through communities and towns, including Misquamicut, Charlestown, Wakefield, Narragansett, Saunderstown, and into Wickford



---

Route 138 through Hope Valley and North Kingstown

-- This route will take you past scenic farmland and the historic site of the University of Rhode Island.

Nearby Points of Interest:

♦ Take I-95 to Exit 3. Follow Route 138 East to Route 1 in Narragansett
♦ Also possible to stay on Route 138 eastbound and cross the Jamestown-Verrazano Bridge into Jamestown and the Claiborne Pell (Newport) Bridge into Newport