Fresh Water Beaches in Rhode Island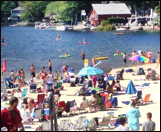 50 Old Hillside Drive Glendale, RI, 02826 Phone: 401-568-9474
Inland freshwater lake/beach
Recreational facility with 750 feet of beach front. Spring Lake has a children's water slide and swim dock. Lifeguard on duty daily.
Amenities: Canoe and paddleboat rentals, volleyball court, food and drink, paddle boats, canoes, kayaks, entertainment, arcade, restrooms, shower, picnic site.
Season/Hours: July 1 - 31, 10 a.m. - 9 p.m.; August 1 - Labor Day, 10 a.m. - dusk
Fees: Non-Resident, $3

151 Pulaski Road Glocester, RI, 02814 Phone: 401-568-2085
Inland/freshwater pond
Located off Route 44, just east of the Rhode Island/Connecticut state line, the Casimir Pulaski Memorial Recreation Area is part of Rhode Island's George Washington Recreation Area. Swimming and fishing in Peck Pond.
Amenities: Picnic site, restrooms, hiking trails.
Season/Hours: Late May – Labor Day; dawn – dusk
Fees: State fees apply (see top of page).

Governor John Notte Memorial Park
1801 Douglas Avenue North Providence, RI, 02904 Phone: 401-349-5625
Freshwater beach/river
A freshwater beach on West River, full recreational facilities, and a peaceful waterfall. Lifeguards on duty daily starting July 1.
Amenities: Paddleboat rentals, ample parking, tennis courts, ball field, swings for children, picnic site.
Season/Hours: Summer; 10 a.m. – 6 p.m.
Fees: Non-resident, $6; $15 per carload.

Briar Point Avenue (off of Arnold Road) Coventry, RI Phone: 401-822-9107
Town-operated freshwater beach
Six-acre beach in Coventry, Rhode Island; clean water for swimming. Lifeguards on duty 10 a.m. – 6 p.m., June 22 through Labor Day.
Amenities: Picnic sites, playground, restrooms.
Season/Hours: Summer, dawn – dusk
Fees: Non-resident, $10

2185 Putnam Pike Chepachet, RI, 02814 Phone: 401-568-2013
This wooded parcel of 3,000 acres offers swimming in the 226-acre Bowdish Reservoir. The shoreline is mostly rocky, and the reservoir is used by small boats.
2 Manchester Print Works Road Lincoln, RI, 02865 Phone: 401-723-7892
Inland park with freshwater swimming, boating, trails, horseback riding
Fresh water swimming at a beautiful inland lake in the woods of northern Rhode Island. Life guards on duty during the summer season. See full description of
Lincoln Woods State Park.
Route 1A just off Route 1 Charlestown, RI Phone: 401-364-1222
Pond swimming, fishing; playground, fields, nature center, Frisbee golf
Small pond in the park offer fresh water swimming from a sandy beach, and fishing from a picnic grove. LIfe guards on duty in season. Picnicking and a pavilion are nearby. Bathrooms are available.
See
full description
of Ninigret Park