Museums and galleries offer a tour of art, culture, fun for children
Rhode Island's museums and galleries range from art at the world-famous RISD (Rhode Island School of Design) to living history at Coggeshall and Watson farm museums, and others that make great places to visit and things to do on your next Rhode Island vacation.
680 Bellevue Avenue Newport, RI, 02840 Phone: 401-847-8344
Artistic treasures and more on display at Doris Duke's mansion
This magnificent museum was originally the oceanfront estate of Doris Duke—heiress, philanthropist, and art collector. Built in 1887 with its historic landscape designed by Frederick Law Olmstead's firm, it remains as she left it with French furniture, European art, Chinese porcelains, and Flemish tapestries. . The expansive landscape features both formal and kitchen gardens as well as panoramic ocean views. In 1958 and 1959, Doris Duke began purchasing art and antiques for the house, combining these new pieces with family treasures. She lived there from May through November most years and continued to collect items for the house during her wide-ranging travels. Upon her death in 1993, Doris bequeathed the estate to the Newport Restoration Foundation, which opened the house and grounds to the public in 2000.

686 Cushing Road Newport, RI, 02841 Phone: 401-841-4052
Explore the naval history of Narragansett Bay
The Naval War College Museum collects, preserves, and exhibits artifacts and documents dating from the 1500s to the present day to interpret the naval history of Narragansett Bay, the Naval War College, and the history of naval strategy. Located in the historic Founders Hall built in 1820, the museum is open to the public and the exhibits are self-guided; guided group tours are available by reservation. Admission is free, however, for visitors without base access, reservations are required 7 business days in advance. Reservations are not required for those with access to the navy base.

Year round hours: Monday -Friday 10 a.m. to 4:30 p.m. The museum is also open on Saturdays from noon to 4:30 p.m. from June through September.
Coggeshall Farm Museum
Off Route 114 Bristol, RI, 02809 Phone: 401-253-9062
A 35-acre colonial farm, established in 1750. The museum features rare breeds of livestock, a barn, cooling house, blacksmith and springhouse. Open March-September, 10 am-6 pm; October-February, 10 am-5 pm.
National Museum of American Illustration and Frederick Law Olmsted Park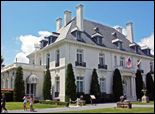 Vernon Court at 492 Bellevue Avenue Newport, RI, 02840 Phone: 401-851-8949
This, the world's largest collection original art from the Golden Age of American Illustration, presents works by Maxfield Parrish, Norman Rockwell, N.C. Wyeth and 150 others. Vernon Court is a furnished 1898 Gilded Age mansion and a national treasure, creating a special unity of art and architecture.
Hours: Memorial Day to Labor Day, Thursday-Sunday, 11 a.m.-5 p.m. with a public tour at 3 p.m. Fridays. Labor Day to Memorial Day, Friday only, 11 a.m.-5 p.m., with a public tour at 3 p.m. Closed holidays; see website for last-minute changes. Open year-round by advance reservation for groups or private tours.
Admission: See website.
Information: www.americanillustration.org.
Museum of Newport History
127 Thames Street Newport, RI, 02840 Phone: 401-846-0813
The museum offers a overview of Newport, Rhode Island, history with exhibits of decorative arts, artifacts of everyday life, graphics, historic photographs, audio-visual programs, ship models, paintings, Colonial silver, the printing press used by James Franklin, a ball gown worn from the Summer Colony, the figurehead from the yacht Aloha, and more. The museum is a great place to visit and thing to do on your next vacation with children when you are looking for a family activity.
Hours: Mid-June-September 4, daily, 10 a.m.-4 p.m.; April 20-June 11 and September 7-December 23, Thursday-Saturday, 10 a.m.-4 p.m.; Sunday, 1-4 p.m.; closed Christmas to April.
Admission: Donation.
Information: www.newporthistorical.org.
Haffenreffer Museum of Anthropology
Tower Street, off Route 136 Bristol, RI, 02809 Phone: 401-863-2065
A part of Brown University, this Rhode Island museum focuses on the arts and culture of Native American, African, Southeast Asian, and Oceanic societies throughout history.
Hours: Year-round, Tuesday-Sunday, 10 a.m. to 4 p.m.; closed Mondays and Brown University holidays.
Admission: Free
Information: www.brown.edu/Facilities/Haffenreffer/
Warwick Museum of Art
3259 Boston Post Road Warwick, RI, 02886 Phone: 401-737-0010
A selection of changing exhibits of the works of artists, both past and present, are found at the Warwick Museum of Art in Rhode Island.
Admission: Free; donations are welcome.
Hours: Tuesday and Thursday, 12:30-7:30 p.m.; Wednesday, Friday, and Saturday, 12:30 to 4:30 p.m.
Museum of Natural History and Cormack Planetarium
Roger Williams Park, 1000 Elmwood Avenue Providence, RI, 02907 Phone: 401-680-7221
Rhode Island's only natural history museum and home to the state's only planetarium make this a great place to visit and thing to do, especially on your next family vacation with children. The museum offers regular exhibits, events, and attractions. The Planetarium features a state-of-the-art Zeiss star projector and an enlarged domed ceiling on which the stars are projected. Children under age 4 are not permitted into the planetarium.
Hours: Museum open daily, 10 a.m.-4 p.m., with last admission at 3:30 p.m. The planetarium is open every weekend and daily during July and August, with shows beginning at 2 p.m.
Admission: Museum admission is $2; planetarium admission is $3.
Information: www.providenceri.com/museum.
Museum of Work and Culture
42 South Main Street Woonsocket, RI Phone: 401-769-9675
The Museum of Work and Culture thells the stories of the men, women, and children who came to find a better life in Rhode Island's mill towns in the late 19th and 20th centuries. The Museum offers visitors an educational experience; exhibits include a farmhouse, mill floor, triple decker, parochial school classroom, and union meeting hall. The museum is fully wheelchair accessible. In 2015 the Museum was named "Best Overlooked Museum" in New England by Yankee Magazine.
Hours: Tuesday-Friday, 9:30 a.m.-4 p.m.; Saturday, 10 a.m.-4 p.m.; Sunday,1-4 p.m.
Admission: Adults, $8; seniors or students, $6; children under age 10, free.
Information: www.rihs.org/museums/museum-of-work-and-culture/
South County Museum
115 Anne Hoxsie Lane Narragansett, RI Phone: 401-783-5400
South County Museum is located on a 174-acre park that once was the 68-room summer home of Civil War-era Governor William Sprague. It includes a working 19th-century farm, and its seven exhibition buildings house a working print shop and working blacksmith shop, plus exhibits on farming, home-making, fishing and sailing and other aspects of 19th- and early 20th-century life in southern Rhode Island.
Hours: May, June and September, Fridays and Saturdays from 10 a.m. to 4 p.m.; Sundays, noon to 4 p.m; July and August, Wednesdays through Saturdays, 10 a.m. to 4 p.m.; Sundays, noon to 4 p.m.
Admission: Adults, $5; seniors over age 60, $4; children age 6 to 12, $2.
Information: www.southcountymuseum.org
Museum of Art at Rhode Island School of Design
224 Benefit Street and 20 North Main Street Providence, RI, 02903 Phone: 401-454-6500
The exhibits at this Rhode Island museum focus on historic art and design. About 86,000 works of art include items and exhibits from ancient Greece and Rome, 18th-century Europe, ancient Egypt, the Middle Ages and 19th-century American decorative art.
Admission: Adults, $12; seniors over age 62, $10; college students, $5; youth aged 5-18, $3. Free admission third Thursday of the month, 5-9 p.m.; every Sunday, 10 a.m.-5 p.m.
Herreshoff Marine Museum and America's Cup Hall of Fame
1 Burnside Street Bristol, RI, 02809 Phone: 401-253-5000
The museum and hall of fame present the story of the Herreshoff Manufacturing Company and the America's Cup competition. From 1863 to 1945, the Herreshoff Manufacturing Company produced the world's finest yachts on the cutting edge of design and engineering. This Rhode Island museum's collection includes 60 original Herreshoff boats, steam engines, artifacts, and photographs from the Golden Age of Yachting.
Hours: April 26-November 2, 10 a.m.-5 p.m.; other times of year by appointment.
Admission: Adults, $10; seniors over age 65, $8; military, $8, youth over age 10, $5.
Information: www.herreshoff.org/
Gilbert Stuart Birthplace and Museum
815 Gilbert Stuart Road Saunderstown, RI, 02874 Phone: 401-294-3001
A showplace for reproductions of the works of Gilbert Stuart, one of America's foremost portrait painters, this home also is an authentically restored and furnished workingman's home and the site of the first snuff mill in America. The lovely wooded homestead on the banks of the Mattatuxet Brook also features a partially restored grist mill and a fascinating fish ladder. The grist mill houses the original fine-grained granite stones used to grind corn for the famous Rhode Island johnny cakes.
Hours: May- September; limited hours in October; call ahead for days and times.
Admission: Adults, $10; children age 6-12, $6
Information: www.gilbertstuartmuseum.com
Tomaquag Indian Memorial Museum
390 Summit Road Exeter, RI, 02822 Phone: 401-539-7213
Artifacts and information about local tribes and Native American groups across the country are presented at Rhode Island's Tomaquag Indian Memorial Museum. Artifacts include an authentic birch bark canoe, a collection of Southern New England ash splint baskets, and a large doll collection.
Hours: Open year-round by appointment only.
Museum of Yachting at Fort Adams
Fort Adams State Park Newport, RI, 02840 Phone: 401-847-1018
The Museum of Yachting brings to the public eye the beauty and excitement which has led sailors to the water for centuries. It is a lively organization that reflects the international flavor of yachting in Newport, Rhode Island, and is dedicated to the preservation of the traditional skills, documents, vessels, and artifacts which record and describe the history and development of yachting around the world.
Hours: Wednesday-Sunday, 10 a.m.-5 p.m.
Cost: Adults, $5; seniors and children, $4.
Information: www.moy.org.
John Brown House Museum
52 Power Street Providence, RI, 02906 Phone: 401-273-7507
One of America's grandest mansions when completed in 1788, the house at 52 Power Street was home first to John Brown, a businessman, patriot, politician, China trade pioneer, and slave trader who participated in the debates and practices that shaped the new nation. Group, school, and special tours are available by appointment when you decide to visit this Rhode Island museum on your next vacation or getaway. .
Hours: December 1-March 31, Friday and Saturday, 10:30 a.m., noon, 1:30 and 3 p.m.; April 1-November 30, Tuesday-Friday, 1:30 and 3 p.m.; Saturdays, 10:30 a.m., noon, 1:30 and 3 p.m.
Admission: Adults, $10; seniors and students, $8; children age 7-17, $6.
Information: rihs.org/museums_jbh.html