Rhode Island Gardens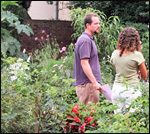 416 Thames Street Newport, RI, 02840 Phone: 401-849-7300
This imposing Federal style home of the 18th century has a beautiful garden lush with roses, fruit trees and bushes, perennials and annuals. It is both refined and rustic. It illustrates the tastes of an affluent, city family of that time. See
full description
of Samuel Whitehorne House.
Blithewold Mansion, Gardens & Arboretum
101 Ferry Road / Route 114 Bristol, RI, 02809 Phone: 401-253-2707
A variety of lovely gardens surround the Great Lawn and flow around the mansion and down toward Narragansett Bay on the property of this English country-style mansion. The gardens include a rose bed, display and perennial gardens, a summer house, and Giant Sequoia, and much more. Gardening classes and demos are held here.
See
full description
of Blithewold Mansion, Gardens, and Arboretum.
Green Animals Topiary Gardens
380 Cory's Lane off Route 114 Portsmouth, RI, 02871 Phone: 401-847-1000
This small country estate in Portsmouth is decorated with more than 80 pieces of topiary throughout the gardens, including animals and birds, geometric figures and ornamental designs, sculpted from California privet, yew, and English boxwood. Green Animals is the oldest and most northern topiary garden in the United States. It hosts many seasonal and special events.
Hours: Open mid-May to early October; daily hours vary through the season. Call for schedule.
Information: www.newportmansions.org/explore/green-animals-topiary-garden
1000 Elmwood Avenue Cranston, RI, 02907 Phone: 401-785-9450
Roger Williams Park is a 430-acre Victorian park with a zoo, museum of natural history and planetarium, carousel, casino, and historic buildings. The Roger Williams Park Botanical Gardens is an indoor garden space and a multi-level glass and steel conservatory, rising from a complex of visitor facilities. During a visit to the Botanical Center, visitors can relax by a waterfall, enjoy the fragrance of flowers from around the world, take a child on a scavenger hunt, or bring a camera or sketch pad.
Hours: Tuesday through Sunday, 11 a.m.-4 p.m. Last ticket will be sold at 3:30 p.m.
Admission: Adults, $3; children age 6-12, $1. Group rates can be booked for 10 or more people.
Information: www.providenceri.com/botanical-center
Lovely in-town Victorian Park; strolling; summer outdoor performances
Lots of wonderful trees, plants, and flower beds are in bloom in the warm seasons at this charming Victorian park in the middle of this picturesque town. Beds of dwarf conifers, day lilies, perennials, and much more. See
full description
of Wilcox Park.
Linden Place
500 Hope St. / Route 114 Bristol, RI, 02809 Phone: 401-253-0390
This 1810 home built for a Rhode Island seafarer has a fascinating story, beautiful grounds, and background roles in the movie "The Great Gatsby." Lots of interesting seasonal events, especially at July 4 and Christmas. Tours offered. Visitors are welcome to stroll the sculpture-filled gardens where they will find Greek bronzes and an 18th Century gazebo. See
full description
of Linden Place.