Rhode Island state and local Parks offer variety and fun, on sea and inland
On your Rhode Island vacation, plan to spend some time at state parks, where the whole family can enjoy hiking, biking, swimming, boating, exploring the tidal pools and much more.

On Bullock's Cove, off Metropolitan Park Drive Barrington, RI Phone: 401-253-7482

Beach for salt-water swimming on Narragansett Bay; picnic groves with a fireplace at each site; ball fields; restrooms, bath house. This is a stop on the East Bay Bike Path. In summer, the park hosts a farmer's market. A boat ramp is accessible to wheelchairs.

345 Ives Road Warwick, RI, 02818 Phone: 401-884-2010
Bayside park for walking, picnics, games, swimming, horseback riding
Beautiful and very spread-out park on an inlet of Narragansett Bay. Lots of open fields for games, picnic spaces with grills. Picnic areas and fields are a favorite for family gatherings and reunions. The park's forested areas have miles of trails for walking and horseback riding. Swimming at a sandy beach. There is an adjacent 9-hole golf course. Old, restorred carousel building sometimes hosts entertainment in summer.
Park Map.
Golf at Goddard Park.
C&L Stables
, immediately adjacent to the park, offers lessons, rides on the park's bridal trails, and multi-day leases for horses.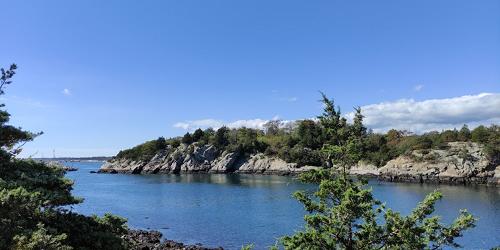 Fort Wetherill Road Jamestown, RI Phone: 401-423-1771
Great views of Newport; good for scuba diving, boating, fishing, hiking
Site of a historic defense battery and military training camp, the park offers spectacular views of Newport Harbor and Narragansett Bay from its location on 100-foot granite cliffs. Popular for scuba diving, picnicking, boating, fishing, and hiking.
Sanctuary Road (Route 1) Charlestown, RI, 02813 Phone: 401-364-8910
Large forested park with freshwater pond; lots of camping in woods; water sports; boat ramp
This large (3,100 acres) and very popular state park is ideal for camping in woodlands. The park includes Watchaug Pond. Amenities at this park include a beach for freshwater swimming, and boat lauch for boating and fishing, campgrounds with fireplaces, drinking water, and toilets. The campground may fill early on summer weekends.
Campground map.
Park map.
Route 14 Bristol, RI, 02809 Phone: 401-253-7482
Beautiful park along Narragansett Bay; walking trails; picnicking; playfields
Colt State Park is cheek to cheek with the eastern shore of Narragansett Bay. It has huge lawns for games, many curving drives and foot paths, fantastic views. Shore fishing. Ten large playing fields, picnic groves, flower beds, near the extensive East Bay Bike Path. This park is a favorite for family gatherings, reunions, and weddings. There is an open-air chapel, Chapel by the Sea.
Map
of Colt State Park.
Lovely in-town Victorian Park; strolling; summer outdoor performances
this is a neat example of an urban park of the Victorian period. Beautiful walking paths, pond and fountain, drawf conifers, day lilies, trees and shrubs. Some live entertainment, like outdoor Shakespeare performances, in summer. Breathtaking from spring to fall. Open year-round, dawn to 11 p.m.
Route 1A just off Route 1 Charlestown, RI Phone: 401-364-1222
Pond swimming, fishing; playground, fields, nature center, Frisbee golf
Interesting and beautiful park on Ninigret Pond, which is a salt-water tidal pond protected from the ocean by a long barrier beach. The park also includes freshwater pond with a beach for swimming, and lifeguards on duty in summer. The park has a playground, ball fields, basketball courts, a nature center and small observatory, restrooms, tennis courts, and a one-mile bicycle trail.
Fishing is done on the back side of the pond. A pavilion is available for rent, and it has grills, picnic tables, electricity, water, and bathrooms. Festivals, like the annual Charlestown Seafood Festivals, are held here seasonally. There is a
Frisbee disc golf course
on the back side of the park. Open year-round, 8 a.m. to sunset
Beavertail Road Jamestown, RI, 02835 Phone: 401-423-9941
Park with rocky shores, tide pools, salt water fishing, walking, picnicking, lighthouse
Beavertail State Park is located at the southern tip of Jamestown Island. It is on a dramatic promontory with a lighthouse. Fantastic views of Narragansett Bay. The coastline of the park is rocky. It is not good for swimming but perfect for rock climbing, exploring tide pools and tidal marine life, salt-water fishing (surf casting), walking the grounds, picnicking and kite flying. Views are tremendous. The Park operates a naturalist program to learn about the ecology of tide pools and local geology. Also, programs relating to crabs, fish, whales and intertidal zones. Open year-round, dawn to dusk.
Beavertail Lighthouse has a museum and gift shop in the assistant keeper's house. Hours vary from May to Columbus Day. The lighthouse tower is not open to the public.
RI lighthouses.
Ocean Drive Newport, RI Phone: 401-847-2400
Historic fort property hosts picnics, swimming, fishing, historic reenactments, sailing
Fort Adams State Park is, in face, a former fort guarding Newport Harbor and the east passage of Narragansett Bay. It is a very large area, with lots of lawns for walking and picnicking. There is also salt water bathing and fishing. Sail Newport, a non-profit organization based at the park, offers instruction and rentals of sailboats and windsurfing equipment. Sail Newport hosts sailing events and races with the park as its home base (401-846-1983).
Fort Adams is known nationally and internationally for its Newport Jazz Festival and Newport Folk Festival, which draw thousands of guests to the property; many more listen to the music from boats in the harbor.
The Fort often hosts special historical events like reenactments of battles and the daily lives of soldiers in a historic setting. The original defenses still standing include walls, powder magazines, guns and cannons, and tunnels. The fort also welcomes people to seasonal events, like its Halloween season Fright and the Fort fun house.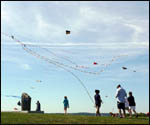 Ocean Drive Newport, RI, 02840 Phone: 401-847-2400
Brenton Point State Park is located on the spectacular Ocean Drive. Its sloping, grassy lawns overlook vast views of Narragansett Bay, its islands, and bird life. Stiff breezes make this a favorite place for kite flying; a kite flying festival is held here every year on the second weekend of July. Visitors enjoy walking, picnicking, fishing on the rocky shore, and nature photography. Open year-round, sunrise to sunset. Bathrooms open May through October.
2 Manchester Print Works Road Lincoln, RI, 02865 Phone: 401-723-7892
Inland park with freshwater swimming, boating, trails, horseback riding
This beautiful, large, wooded inland park is in the Blackstone River Valley and an easy drive from Providence. The park has a lake for freshwater swimming and paddling, trout fishing, and fields for ball games and picnics. Permits are required for use of picnic areas and fields.
There are many trails for hiking, walking, jogging, horseback riding or mountain biking. Some trails are for horseback riding only and other trails are for multiple uses.
Lifeguards are on duty during the summer season. Motor boats are not allowed on the lake on weekends and holidays during summer. Motors must be less than 10 horsepower. Eastern Mountain Sports operates a kayaking school at the park (800-310-4504). The Park has a riding program with lessons, by
Sunset Stables
.
Map of Lincoln Woods State Park (PDF)