Waterfront dining at restaurants in RI offers lush seaside views
Waterfront restaurants can run the gamut from seafood shacks to white-tablecloth food extravaganzas. Enjoy dining by the sea in all its forms during your Rhode Island vacation with family or on a weekend getaway.
70 Winnapaug Road Misquamicut, RI, 02891 Phone: 401-348-8953 Toll-Free: 800-462-8872
Mediterranean inspired fare at this stylish seaside cafe
On Rhode Island's south coast near Westerly is the summertime tradition that is Maria's Seaside Cafe. Welcoming locals and vacationers with great food since 1994, Maria's blends the atmosphere of a classy, coastal, sidewalk cafe with the warmth of an Italian trattoria. Enjoy our newly renovated intimate dining room that opens up to a covered patio and terrace creating a unique al fresco waterfront dining experience. Maria's serves the finest local seafood, plus fresh pastas and grilled Mediterranean inspired cooking. This breezy, elegant space serves lunch, dinner as well as craft cocktails and hand selected wines at our horseshoe bar.
159 Atlantic Avenue Misquamicut, RI, 02891 Phone: 401-596-2610
Oceanside dining with the perfect ocean view
Dine by the Atlantic on Misquamicut Beach at this 350 seat deck restaurant serving delicious food and drink. A new and expansive lunch and dinner menu includes great seafood and modern American fare including a Raw Bar, appetizers including Paddy's Famous Smoked Wings, Open Faced Jalapeno Poppers, Avocado Toast, Clam Cakes and Chowder, Burrata & Tomato Salad. Choose from sandwiches like the Smoked Turkey Rachel, Pastrami Sliders or Tuna Tacos. Want more? Try the Fisherman's or Clam Strip Platter. Quench that thirst with punches, coladas and margaritas, beer and wine, or take it up a notch with the award-winning Signature Specialty Drink Menu with take home souvenir cups. From May-September there's seven miles of white sand, events, amusements, live music and fun just waiting for you – beachside.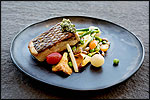 117 Memorial Boulevard Newport, RI, 02840 Phone: 401-847-1300 Toll-Free: 866-793-5664
At The Spiced Pear, Enjoy Fine Dining with Ocean Views
At The Spiced Pear Restaurant at Newport's Chanler at Cliff Walk, the dining experience reflects the elegance and comfort of the local lifestyle. Chef Thomas Duffy has designed an extensive menu of contemporary New England dishes with classic French influences. Start off with a glass of wine and shaved vegetable salad or wild burgundy escargot. Move on to rich entrees like Maine Diver Scallops, Berkshire Pork Chops, or Butter Poached Lobster. If you can't bear to make a choice, don't. Instead, take advantage of our Chef's Tasting Menu option, a six-course dinner that can be experienced with or without wine pairings. For breakfast or lunch, enjoy a meal at The Veranda, an enclosed dining area with floor-to-ceiling windows that offer spectacular ocean views.
65 Atlantic Avenue Misquamicut, RI, 02891 Phone: 401-348-8200
Eat, drink and be inspired
Dine on the waterfront at The Kitchen at Pleasant View Inn. Offering full-service dining for breakfast, lunch and dinner, the restaurant features a full bar serving cocktails, beer and wines, fresh, high quality local seafood and traditional American fare. Four dining rooms all feature stunning oven views. The main dining room is highlighted by classic antique furniture and has recently transitioned away from a formal to more family-friendly ambiance and attire. Guests seeking a casual atmosphere can enjoy The Upper Hatch. A classic wrap-around bar, this is ideal for relaxing and savoring a bite to eat. Full meals from The Kitchen menu can be provided or for those on the go, light snacks like crab cakes, chicken wings, a shrimp cocktail or clams can be ordered up.