Find the best places and tips for fishing in Rhode Island
Opening day for trout fishing in Rhode Island is usually mid-April. Licenses are required for anglers 15 years of age and older. Licenses many be purchased at Rhode Island's city halls and town halls and many local bait and retail shops or online at the
Licensing and Registration
web page of the Rhode Island Department of Environmental Management.
Rhode Island residents are not required to have a license for saltwater fishing unless they wish to sell the catch. Out-of-state residents must have a license to shellfish in Rhode Island waters; also, they are forbidden to take lobster. For more information contact the Rhode Island Department of Environmental Management at 401-789-3094.
Rhode Island Tide Charts
Black Point
Off Ocean Avenue Narragansett, RI Phone:
Off Ocean Road, just north of Scarborough State Beach. A dirt path extends toward Narragansetts Bay from a parking lot just north of the old stone carriage house. On-site parking is available.
Off Route 146 Lincoln, RI Phone:
Trout fishing is done at this pond in a state park in northern Rhode Island. On the the east side of the park is a cement plank boat ramp suitable for launching trailered boats as well as hand-carried boats. Kayaks are available for rent here.
Beavertail Road Jamestown, RI, 02835 Phone: 401-423-9941
Park with rocky shores, tide pools, salt water fishing, walking, picnicking, lighthouse
State park with glorious views at the end of Jamestown Island. Rocky shoreline is popular for surf casting. See
full description
Beavertail State Park.
On Bullock's Cove, off Metropolitan Park Drive Barrington, RI Phone: 401-253-7482
at Freebody and Bayview drives Jamestown, RI Phone:
Potter Cove is a long sandy beach facing the East Passage of Narragansett Bay. The beach and Taylor Point are part of a town park where people like to fish, windsurf, paddle kayaks and have picnics. On the water here, prepare to handle large waves and heavy boat traffic. This is a site for launching hand-carried boats such as canoes or kayaks.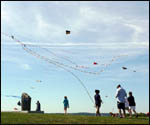 Ocean Drive Newport, RI, 02840 Phone: 401-847-2400
Surf casting is popular from the rocky shoreline of this beautiful state park. Excellent views of Narragansett Bay, islands, a lighthouse, and sometimes surfers. See full description of
of Brenton Point State Park
.
Barber Pond
Barber's Pond Road, off Route 2 South Kingstown, RI Phone:
28 acres. Location: Route 102 to Route 2 South, about 7 miles on right. Parking: Yes.
end of Barker Avenue Warren, RI Phone:
A gravel path leads to the Kickemuit River.
Seapowet Marsh and Point Fishing Area
Off Seapowet Avenue Tiverton, RI Phone:
Location: Off Seapowet Avenue, this refuge area includes a variety of coastal habitats. There is a parking area along a cobble beach north of the bridge over the Seapowet River and walking or driving access to Seapowet Point. There is a marsh on the point, popular for shellfishing. The beach is a good spot for walking, fishing, bird watching, or enjoying the view of the river.
Stafford Pond
off Old Stafford Road Tiverton, RI Phone:
476 acres. Route 24 East to Fish Road South, to Bulgarmarsh Road, take left on Route 81. Stafford Pond Road, access on left. Parking: Yes.
Route 1A just off Route 1 Charlestown, RI Phone: 401-364-1222
Pond swimming, fishing; playground, fields, nature center, Frisbee golf
Fishing is done in a small pond in the park. Picnicking, a pavilion, and bathrooms are nearby. See
full description
of Ninigret Park
Route 14 Bristol, RI, 02809 Phone: 401-253-7482
Beautiful park along Narragansett Bay; walking trails; picnicking; playfields
There is lots of room for surf casting and shore fishing along the mostly rocky beaches of this large, open park on the eastern shore of Narragansett Bay. See
full description
of Colt State Park.
Beach Avenue Block Island, RI Phone:
A popular fishing place is the bridge over the Harbor Pond Channel. This site has traditionally provided public access for fishing, scenic enjoyment, and shell fishing. No parking is available.
Goat Island Connector
Gladys Casrr Bolhouse Road Newport, RI Phone:
This causeway links downtown Newport to Goat Island. It's a popular spot for fishing. A paved road and two concrete sidewalks extend from the circle in front of the hotel to the west side of the causeway and Newport Harbor. Curbside parking is available.
Mount Hope Fishing Access
Off Annawamscutt Drive Bristol, RI Phone:
A single-width concrete ramp that accommodates trailers leads into shallow water, protected by a breakwater on Mount Hope Bay. Nearby is a rocky beach and a marsh. Parking for 20 vehicles, or fewer with trailers. There's more parking along the entrance road.
Wyoming Pond (Wood River)
Bridge Street and Nooseneack Hill road Richmond, RI Phone:
26 acres. Location: Route 95 to Route 138W, site just past intersection of Routes 3 and 138 and Bridge Street, on the right. Gravel ramp. Parking: Yes
Breakwater at entrance to Sakonnet Harbor
Bluffhead Road Little Compton, RI Phone:
At the end of Bluffhead Road and at the mouth of the Sakonnet River a breakwater is at the opening of Sakonnet Harbor. The breakwater is good for walking and fishing. There is no public ramp. On-site parking is available.
Quonochontaug Breachway
Location: West Beach Road, off of Route 1. A popular fishing spot for striped bass, winter flounder, snapper, and Bluefish. Parking is available at the end of West Beach Road for cars and boat trailers. Toilets on-site.
Off Ocean Avenue just west of Prices Neck Road Newport, RI Phone:
Kings Beach is a fishing access site at the east end of Brenton Point State Park. There is a gravel parking lot and a rocky beach for launching only hand-carried sea kayaks. Waves from the Atlantic are heavy, and only experienced sea kayakers should attempt this water.
Middle Bridge Road Narragansett, RI Phone:
The causeway and bridge crosed over the Narrow River. At the southwest end of the bridge there is a path to the Narrow River identified by a historic marker. There is restricted parking along Middlebridge Road. Trash receptacles are on-site.
Sanctuary Road (Route 1) Charlestown, RI, 02813 Phone: 401-364-8910
Large forested park with freshwater pond; lots of camping in woods; water sports; boat ramp
Fishing is done on Watchaug Pond at this popular state park. There is a boat ramp. See full description of
Burlingame State Park
.
Ocean Avenue Bridge
Trims Pond New Shoreham (Block Island), RI, 02807 Phone:
Location: This bridge crosses over Trims Pond, a tidal pond that is connected to Great Salt Pond in New Harbor.
Van Zandt Fishing Pier
Van Zandt Avenue and Washington Street Newport, RI Phone:
Just south of the Newport Bridge is a public pier at the crossing of Van Zandt Avenue and Washington Street to Narragansett Bay. There is no on-site parking.
Pascoag Reservoir (Echo Lake)
at Jackson Schoolhouse and Widow Smith roads Glocester, RI Phone:
352 acres. Location: Route 44 West to Jackson School House Road, North, site is ½ mile on the right. Parking: Yes.
West end of Charlestown Beach Road Charlestown, RI Phone:
The breachway has some of the best salt water fishing in South County and a panoramic view of Block Island Sound. there is a boat ramp of linked concrete slabs, a rock jetty, a wide sandy beach on the ocean, and an RV campground. There is parking and an entrance fee during season. No handicap access.
Off Plainfield Pike (Route 14) Coventry, RI Phone:
Carbuncle Pond is a pretty 39-acre pond in the Nicholas Farm Management Area. Two gravel parking lots lead to a handicapped-accessible fishing pier and to a concrete plank boat ramp. There are good places at both lots for launching hand-carried boats. Only electric trolling motors are allowed on the pond. The pond is stocked with trout several times a year.
Old Sprague Bridge Overlook
Location: East of Scenic Route 1A. The bridge abutments provide a view of the Pettaquamscutt Refuge and the Narrow River. There is parking available for cars on both sides of the river. Handicap access.