Luxury four star and five star hotels in Rhode Island treat you like royalty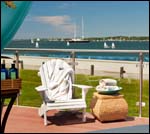 Rhode Island is so beautiful and interesting you should consider raising the stakes for your Ocean State vacation or getaway by finding a luxury hotel, or resort, or other luxury lodging. Luxury lodgings in Rhode Island work beautifully for any occasion from a romantic weekend stay to a family summer vacation or a wedding or reunion. Luxury lodgings near the shore or near Newport may offer spa services, swimming pools, access to beaches and boat tours, and suites for larger groups.
Luxury lodging in this geographically compact state will put you close to world-class attractions, like Newport's mansion and golf courses and historic waterfront (with fun shopping), or like Providence's WaterPlace Park, Little Italy, gourmet food, and world-class colleges and universities. The upscale lodgings on this page have earned four star hotel or five star hotel ratings from AAA or Forbes Travel Guide, designating them as members of the select group that offers top-quality services and amenities.