Rhode Island (RI) Diners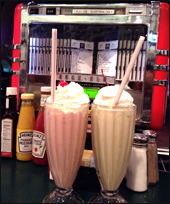 Diner food, architecture, and culture are alive and sizzling in diners throughout New England. Providence, RI, is the undisputable home of the diner. In 1872, Walter Scott, a worker at the Providence Journal, began selling food at night from a horse-drawn freight wagon outside the newspaper's building. Soon, entrepreneurs began buying streetcars and converting them to diners. The Worcester Lunch Car Company of Worcester, MA, built diners that opened all over the East.
Fast food companies whacked the diners starting in the 1950, but a diner revival got underway in the 1970s. Today, hometown diners serve all the classics, with local flair: baked beans and Boston cream pie in Boston, blueberry pancakes and lobster rolls in Maine, maple syrup in Vermont. Find diners in
CT
,
Maine
,
MA
,
NH
,
RI
, and
VT
.

EAST GREENWICH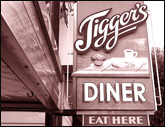 Jigger's Diner
145 Main Street
East Greenwich, RI
Phone: 401-884-6060
The first thing you notice about Jigger's is the pretty New England main street where it makes its home: in the "hill and harbor" neighborhood of east Greenwich, supported by fun shops and uphill from a small but busy waterfront. This beautifully restored 1950s Worcester diner car is busy on weekend mornings: you may have to wait. It's busy for good reasons: like the White Chocolate Chip Pancakes, Lemon Ricotta-stuffed French Toast with Blueberry Compote is a good breakfast choice, as is the Corned Beef Eggs Benedict. Lunch choices, the the Fried Sea Scallop Roll, are just as lavish. Try the coffee milkshake -- known in Rhode Island as a "cabinet."
EXETER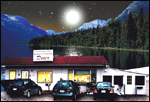 The Middle of Nowhere Diner
222 Nooseneck Hill Road
Exeter, Rhode Island
Phone:
401-397-8855
Hours:
Open daily, 5 a.m.-9 p.m.
Where the women are beautiful, attentive, charming, and like the food, worth the detour. Food, glorious food is always going on in the Middle of Nowhere. Boiled, broiled, baked, barbecued, braised, potted, roasted, poached, pickled, fried, fricasseed, stewed, and a few not yet invented. This place, which is not as hard to find as the name implies, is beloved by customers, especially for it steak and eggs and home fries breakfast and its welcoming atmosphere. Locals keep coming back.
MIDDLETOWN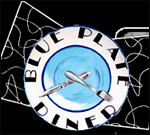 Blue Plate Diner
665 West Main Road
Middletown, Rhode Island
Phone:
401-848-9500
Hours:
Sunday-Thursday, 6:30 a.m.-9:30 p.m.; Friday-Saturday, 6:30 a.m.-10 p.m.
The Blue Plate Diner offers traditional diner fare with an upscale, unique twist, in a casual atmosphere. Everything is made from scratch. The eggs are from local farms; the seafood is purchased daily from local fishermen, and is the same quality as the best of buy. The menu has something for everyone, including eggs, pancakes, waffles, omelets, burgers, sandwiches, salads, seafood, steaks and more. Special treats include hickory smoked bacon, gourmet English muffins, black Angus beef, and Custom House coffee. The only food that comes from the freezer is ice cream.
NEWPORT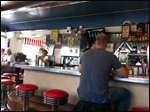 Bishop's 4th Street Diner
184 Admiral Kalbfus Road
Newport, Rhode Island
Phone:
401-847-2069
Hours:
Monday-Thursday, 6 a.m.-3 p.m.; Friday, 6 a.m.-7 p.m.; Saturday, 6 a.m.-2 p.m.; Sunday, 6:30 a.m.-2 p.m.
In spite of the Newport address and all that that usually implies, this is a basic classic diner in the traffic circle right outside of Gate 1 from Naval Station Newport. Classic diner food on a fairly limited menu, but the prices are reasonable and service is good. Try the chourico (Portuguese sausage) and eggs. Your fellow diners are usually a nice mix of locals and tourists. Take cash – that is all you can pay with.
PAWTUCKET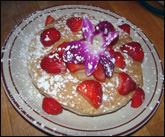 Modern Diner
364 East Avenue
Pawtucket
Phone:
401-726-8390
The Modern Diner, a 1940s Sterling Streamliner, was the first diner to make it onto the National Register of Historic Places, in the 1970s. It is best known these days for its fine weekend brunches. The place is popular for its linguica [Portuguese sausage] hash omelette, lobster benedict, and the maple rum French toast.
PROVIDENCE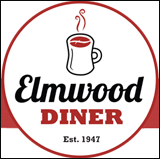 Elmwood Diner
777 Elmwood Avenue
Providence, RI
Phone:
401-781-0777
Hours:
Open daily except Mondays, 8 a.m.-3 p.m.
Re-opened in 2015 in the place of the beloved former Liberty Elm Diner, this barrel-roofed classic was car No. 806 built in the factory of the Worcester Lunch Car Co. in Massachusetts, and is is on the National Register of Historic Places. The ingredients are locally sourced when ever possible, and everything is made from scratch. Plenty of healthier food choices. Packed with fans on the weekends in particular. Major credit cards accepted.
PROVIDENCE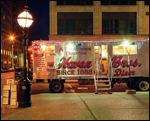 Haven Bros. Diner
Next to City Hall, on Fulton Street near Dorrance Street
Providence, Rhode Island
Hours:
4:30 p.m.-5 a.m.
This historic diner, located on the back of a tractor trailer, is towed every night to the edge of Kennedy Plaza next to City Hall. this classic stainless-steel diner serves up food all night long to club goers, bikers, and other after-dark wanderers. Two barstool-style seats at a short counter are the only indoor seating. Outdoor annex seating is the front steps of City Hall. The place is a late-night legend, and has been featured on the film "Federal Hill" and the TV series "Made" and "Brotherhood."
PROVIDENCE
Seaplane Diner
307 Allen Avenue at Mural Street
Providence, Rhode Island
Phone:
401-941-9547
This place is located on the waterfront -- the Port of Providence. A true mobile diner in every sense of the word. Many hidden surprises and nuances in their menu offerings, for example: Oreo pancakes! There's gotta be some kind of prize for that. The service is terrific. And you get a view of an enormous scrap metal yard.
Diner Slang:
Some diner slang –- like
cup of Joe
for a cup of coffee -- is mainstream American English, but much of this unique language appears only as background chatter in film noir. On your next diner run, try a few of these on your
soup jockey
, or waitress:
java
= coffee
sun kiss
= orange juice
baby juice
= glass of milk
life preservers
= doughnuts
Adam and Eve on a raft
= two eggs on toast
blowout patches
= pancakes with
Vermont
= maple syrup
Want your eggs scrambled? Tell the waitress to
wreck 'em
.
A
shingle with a shimmy and a shake
= is toast with jelly.
For toasted English muffins, say:
burn the British
.
If you are in the mood for risk, tell the waitress to
sweep the kitchen
or
clean up the kitchen
and she'll bring you a plate of hash.
Lunchtime? Try a
Noah's boy
= Ham on bread, or a ham sandwich.
For a hamburger with lettuce, tomato, and onion, your waitress may tell the cook
to
burn one, take it through the garden, and pin a rose on it.
cow paste
for butter
dog soup
for a glass of water
M.D.
for a Dr. Pepper
sea dust
for salt
Mike and Ike
for salt and pepper shakers
If this list doesn't cover your dining needs, the American Diner Museum can tell you much more.