Tiverton Four Corners, 3948 Main Road Tiverton, RI Phone: 401-533-3211
July 18, 2015
This festival presents some of the best local, regional and national artists display and sell their works, from homemade body care products to works on paper, photography, pottery, beautiful jewelry, home accessories and even handmade dog accessories. Time: 10 a.m. - 4 p.m. Admission: Free.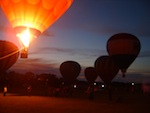 University of Rhode Island Athletic Fields, 3 Keaney Road Kingston, RI, 02881 Phone: 401-783-1770
July 17-19, 2015
Balloon rides, carnival rides and games, trout fishing pond, Flying Wallendas, airborne jugglers, fireworks Saturday at 9 p.m.; giant kites fly; plenty for food. Adults, $10; children age 14 and younger, $5; families $25. Time: Friday, 4-9 p.m.; Saturday, 6 a.m. to 9 p.m. fireworks show; Sunday, 6 a.m.-6 p.m.
St. Spyridon Greek Orthodox Church, Thames and Brewer Streets Newport, RI Phone: 401-846-0555
July 31-August 2, 2015
Come enjoy authentic Greek cuisine and pastries, live music and dancing, ouzo, Greek beer and wines and shop at the marketplace! Free admission. Time: Friday, 4 p.m.-midnight; Saturday, noon-1 a.m.; Sunday, noon- 6 p.m.
Wickford Village, Route 1A Wickford, RI Phone: 401-294-6840
July 11-12, 2015
Join the country's oldest open-air art fair featuring more than 250 artists from around the country and around the world. Fine arts-paintings, sculpture, and photography. Artists exhibit on Main Street, Brown Street, West Main Street and several side roads in Wickford Village. Parking for the festival is free on certain streets and at Wilson Park and Wickford Elementary School. Time: 10 a.m.-5 p.m.