Newport's waterfront hotels, motels, inns offer you a dream vacation
Rhode Island is the Ocean State, so it is natural that many of its hotels, motels, and other lodgings are oceanfront or beachfront digs. Waterfront and beachfront lodging in Newport, RI can range from cozy inns to brand name chain hotels scattered along the oceanfront. A great vacation option for children and families and people who love the sand, sea, and sun (and don't forget the numerous fairs and festivals throughout the year).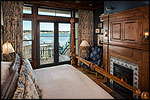 117 Memorial Boulevard Newport, RI, 02840 Phone: 401-847-1300 Toll-Free: 866-793-5664
Soak up Ocean Views and Salt Air in Newport, RI
Picture yourself awaking in a Newport, Rhode Island villa with ocean views of the Atlantic stretching to the horizon. You'll find that scene at The Chanler at Cliff Walk, a waterfront boutique hotel in Newport, RI. Our property is a Gilded Age mansion by the sea, meticulously restored to its former glory. We offer 20 distinctive Newport, RI accommodations, with views of the ocean or our gardens, elegant decor, canopy beds, Jacuzzi tubs, private courtyards, and secluded outdoor hot tubs. Enjoy spectacular ocean views when you dine at our Spiced Pear Restaurant (open for dinner) or The Veranda (open for breakfast and lunch.) In warmer months dine al fresco on our Terrace. Have our chefs prepare you a picnic lunch to enjoy on the beach. Later wander The Cliff Walk, a historic trail along the shore.