Rhode Island amusement parks provide tons of family fun
Rhode Island has both very large and smaller, family-operated amusement parks to provide a full day of family fun for small children, teen, adults, with all the rides, roller coaster, and summer good you could desire.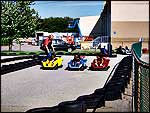 1098 Fall River Avenue Seekonk, MA, 02771 Phone: 508-336-8307
Competitive fun with affordable pricing
As unique an amusement park as you might find anywhere, Seekonk Grand Prix has go karts and much more. The ¼ mile family track, the longest in New England, features hairpin turns, a bridge, 2 tunnels and new two-seater go-karts. Some fast hand work is needed to get you around the Slick Track's slippery oval where you can race up to 12 of your friends. Little guys and gals have their own Rookie Track and can graduate to the Kiddy Track and Beginner Track. Bumper cars and boats are for bumping while the arcade offers more than 60 of your favorite games like Guitar Hero, Ski Ball, Air Hockey and Dance Dance Revolution. Here's competitive fun at affordable prices.